The City's Top Precincts for Hotel Investors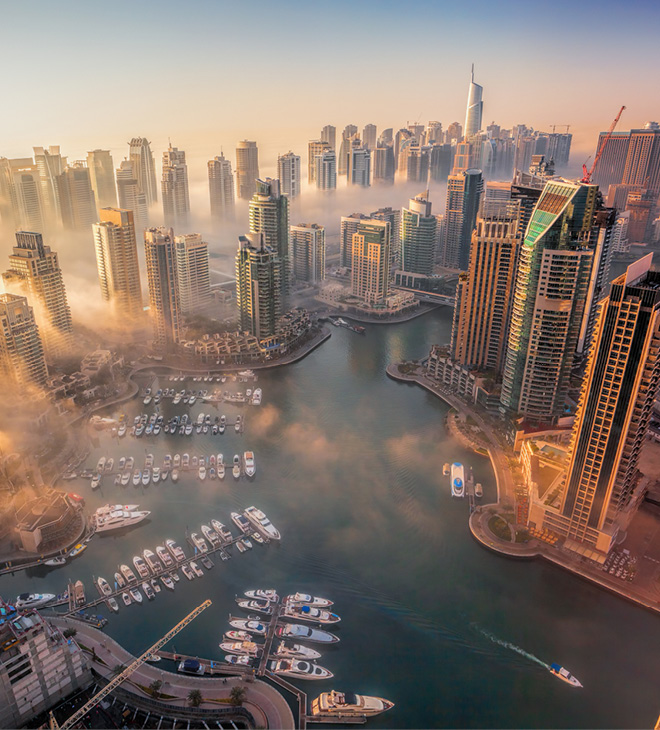 Over the past 20 years, Dubai's property market has emerged as one of the world's most popular destinations for international investors. In 2002, the UAE government introduced new laws allowing foreign investment in the sector, kicking off an unprecedented period of growth. The move coincided with a period of intense infrastructure development in the emirate, designed to transform it into a global hub for tourism, commerce and investment.
Today, Dubai ranks among the world's top five destinations for international visitors[1]; is home to the world's busiest airport by international passenger traffic; and boasts the Middle East and North Africa (MENA) region's largest hotel and hospitality sector.
Even more impressive are Dubai's ambitions for the future, which include claiming the title of world's most popular tourism destination within the next 20 years.
The government's remarkable vision in this respect has also made Dubai one of the world's top destinations for hotel investors hoping to capitalise on the city's growth plans.
To discover more about the incredible opportunities in Dubai's hotel investment market, download a copy of our exclusive Hotel Investment report, and read on below for our round-up of the city's top locations for hotel investments.
DUBAI MARINA
Home to the world's largest man-made marina, Dubai Marina has played a key role in Dubai's emergence as one of the world's top tourism destinations. Home to more than 120,000 residents, the mini-metropolis boasts an iconic skyline, a vibrant restaurant and nightlife scene, and a buzzing retail precinct.
Located adjacent to the popular Jumeirah Beach and the recently opened Bluewaters Island, Dubai Marina is a magnet for residents and visitors to the city and one of the emirate's most popular destinations for property investors.
Dubai Marina is home to four of The First Group's landmark hotel developments, including Ciel, which is currently under construction and will become the world's tallest hotel upon completion. Designed by renowned architectural firm, NORR, Ciel will reach a height of 365 metres and will house 1,042 guestrooms and suites when completed, along with a stellar range of guest amenities.
Featuring contemporary interiors and a remarkable glass observation deck providing stunning 360-degree vistas across Dubai Marina, The Palm Jumeirah and the Arabian Gulf, Ciel is set to become one of this iconic precinct's great landmarks.
The First Group's Dubai Marina portfolio also includes the 497-key Wyndham Dubai Marina, the 457-key Millennium Place Marina, which is home to the world's first MasterChef the TV Experience restaurant and the recently opened Japanese eatery Ikigai - developed in conjunction with award-winning celebrity chef Reif Othman – as well as Al Dar Tower, which boasts 260 fully equipped units comprising studios, 1-, 2- and 3-bedroom apartments and 4-bedroom duplex penthouses.
BUSINESS BAY
Once overshadowed by its glitzy neighbour Downtown Dubai, Business Bay has fast become one of Dubai's most exciting and cosmopolitan districts, thanks to its central location, fantastic amenities and canal-side views.
Proclamations from the likes of Lonely Planet, which in 2017 labelled Business Bay one of the world's "coolest neighbourhoods to visit", has undoubtedly helped boost the precinct's credibility, as has the huge number of major commercial developments that have put it on the radar of international investors.
The precinct also boasts some of the city's best infrastructure, ultra-modern business and leisure facilities and world-class transportation links, with direct access to Sheikh Zayed Road and the Dubai Metro. It is also located less than 10 minutes' drive from Dubai International Airport.
Business Bay is home to three of The First Group's forthcoming hotel developments in Dubai: the 492-key The One Hotel at Business Bay; the stylish, 440-key Sky Bay Hotel Business Bay; and the impressive 330-room, canal-side Dolphin Tower at Business Bay.
JUMEIRAH VILLAGE
One of New Dubai's fastest-growing precincts, Jumeirah Village ranks among the city's top destinations for investors thanks to its central location, top transport links and growing popularity among residents and visitors to the city. Aiding its popularity in this respect is the fact it is also located a short drive from Dubai South – home to Expo 2020 Dubai – in addition to the city's top leisure and business attractions.
Jumeirah Village is also notable for being home to the world's first-ever hotel to open under The First Group's exciting new lifestyle brand, The First Collection. Scheduled to open in late-summer 2021, the stunning 41-storey The First Collection at Jumeirah Village Circle will house an array of sophisticated guest, dining and leisure facilities that will help establish the hotel as a unique lifestyle destination. Key F&B highlights will include the ultra-hip, Latino-inspired eatery Santè Ria, and Paparazzi, which will shine a spotlight on authentic Italian fare, from antipasti to handmade pizzas and pastas.
Elsewhere in Jumeirah Village, The First Group is developing The One at Jumeirah Village Triangle and Avalon Tower, with both hotel properties set to house a broad array of world-class guest facilities and amenities.
BARSHA HEIGHTS
Barsha Heights, formerly known as Tecom, is a commercial and residential community located in the heart of Dubai. It is home to many creative SMEs and local businesses, as well as cafés, restaurants, multiple supermarkets, pharmacies and salons. It provides residents and visitors access to modern amenities in the heart of the city and at the same time, is fast gaining a reputation as one of Dubai's most desirable places to dine out or relax with friends, family and colleagues.
The area is also home to a growing number of serviced apartments and midscale and upscale hotels, four of which have been developed by The First Group, which has also established its headquarters there. Barsha Heights is one of Dubai's best-connected neighbourhoods, close to major road and rail links, and is a popular place for young professionals to live and work.
The First Group's property portfolio in the precinct is spearheaded by TRYP by Wyndham Dubai – the world's largest TRYP-branded hotel with 650 guestrooms and suites, which opened in August 2017. The award-winning upper midscale hotel is one of Barsha Heights most popular accommodation options among international visitors to the city. It is also a popular lifestyle destination in its own right and is home to popular eateries including the Spanish restaurant and tapas bar Lola Taberna Española and the Mediterranean-themed Soluna Restaurant & Lounge.
The First Group also developed and operates three hotel-apartment developments in Barsha Heights: First Central Hotel Suites, which features 524 modern and fully equipped apartments; the 210-unit Citadines Metro Central Hotel Apartments; and Grand Heights Hotel Apartments, which is home to 72 one-bedroom units and 112 executive suites.
DUBAI SPORTS CITY
With a world-class, 25,000-seat cricket stadium, multiple international sports academies and Links-style golf courses, Dubai's biggest sporting precinct is also one of the city's top residential communities. Given its popularity, it is little wonder that The First Group is also one of Dubai Sports City's largest property stakeholders, having developed four world-class residential developments in the precinct over the past 15 years: the 34-storey The Matrix; the 128-key The Diamond; The Bridge - a mixed commercial-residential development that houses the precinct's only SOLO Business Centre; and The Spirit, which is equipped with a rooftop jogging track, luxury swimming pool, sun deck and state-of-the-art gymnasium.
Dubai Sports City (DSC) is also conveniently located a short drive from Dubai's main business and leisure precincts, including Dubai South, which will host the Middle East's first World Expo in 2020. Meanwhile, Dubai International Airport and Al Maktoum International Airport – the city's international air hubs – are located just 20 minutes and 15 minutes' drive respectively from DSC.
[1] Dubai Tourism Annual Visitor Report 2020