Metro Central
The First Group's award-winning Metro Central Apartments ranks among Barsha Heights most popular serviced apartment developments. The impressive, 17-storey tower features 210 fully furnished luxury apartments comprising 12 Executive Studios, 96 Director Apartments and 102 Presidential Suites, each of which enjoys a unique configuration thanks to the building's architectural design. Under the guidance of our management partner Citadines, Metro Central Apartments has achieved consistently high occupancy rates, providing stellar returns to investors in this well-situated and highly-accomplished development.
Metro Central is one of Barsha Heights' most popular hotel apartment facilities, as proven by its strong and consistent occupancy rates. In the most recent surveyed period (October 2022 – March 2023), the figure stood at an impressive 90%, ranking it among the top performing properties in Barsha Heights.
Citadines Apart Hotels is owned and operated by The Ascott Limited, one of the world's largest serviced apartment operators, with a portfolio of 100,000 units in 172 cities located in 33 countries. The firm's vast experience has proven key to Metro Central's enduring success.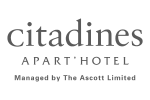 7
Major international industry awards to date
90%
Occupancy rate (Oct 2022 - Mar 2023)
PRIME LOCATION
Adjacent to Barsha Heights' Dubai Metro station
FACILITIES
24 hours reception
24/7 reception and concierge services
Valet Parking
Complimentary valet parking service
Business Lounge
Modern, high-tech facilities for business guests
Laundry service
24/7 laundry service
Wi-Fi
Complimentary high-speed internet access
Guest Conveniences
Contemporary deli café and in-room dining
Swimming pool
Luxury rooftop swimming pool and sundeck
Gymnasium
Fully-equipped fitness centre
Satellite Television
Local and international digital channels