Why you should invest in Dubai's hotel market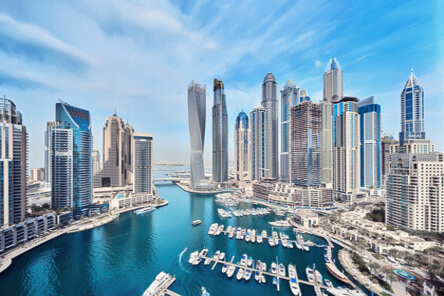 With investor interest in Dubai real estate at an all-time high and tourism booming, there's never been a better time to invest in Dubai's fast-growing hotel sector
With Dubai's real estate and tourism markets booming, there's never been a better time to invest in both sectors.
Dubai's real estate market continues to go from strength to strength, with transactional volumes in July proving the best for any month since January 2012, according to Dubai Land Department (DLD) data.
Meanwhile, Dubai's tourism sector has recovered strongly from the Covid-19 pandemic, with the city welcoming 7.12 million international overnight visitors in the first half of 2022, marking an impressive rise of 282 per cent year on year (YoY), according to data published by Dubai Tourism.
The rise in visitation has also spelled good news for the city's hotel market, which has reported strong gains in 2022.
According to a report published by hotel industry analyst STR, Dubai ranked first globally in terms of hotel occupancies in the first quarter of this year, achieving an average of 82%, outstripping the occupancy performance of other major international markets including London, Paris, and New York. The average revenue per available room (RevPAR) for the first quarter was also up 110% YoY to US$188.
As one of Dubai's most-respected hotel developers, The First Group (TFG) provides investors unrivalled opportunities to capitalise on Dubai's incredible growth through the purchase of hotel units in its world-class developments, which are located in the city's most exciting precincts, including Dubai Marina, Jumeirah Village and Business Bay.
From Ciel in Dubai Marina, which will claim the title of world's tallest hotel when it opens in 2024, to The One Hotel at Business Bay and The One at Jumeirah Village Triangle, The First Group has an impressive slate of upscale hotels in its development pipeline, offering savvy investors the chance to benefit from the market's strong growth. Other upcoming investment opportunities include Dolphin Tower in Business Bay and Avalon Tower in Jumeirah Village.
Investing in The First Group's hotel developments provide investors with a range of benefits, including:
- TFG manages every aspect of your hotel investment on your behalf. A specialised, experienced operator will be appointed to operate the asset to maximise its performance. You will also be appointed a dedicated Client Account Manager who will provide you with regular updates about the performance of your asset, leaving you to simply enjoy the significant returns on your investment.
- Investors not only receive our award-winning 'White Glove' service, but they also gain access to a world of exclusive owner privileges provided in partnership with world-renowned hospitality and luxury brands, as well as discounts at our collection of hotels and restaurants.
To discover more about the amazing investment opportunities available in Dubai's booming real estate sector, download a copy of The First Group's Hotel Investment Report for free here:
https://www.thefirstgroup.com/en/dubai-property-investment/tourism-hotel-market-report/