UNRIVALLED AMBITION, PROVEN TRACK RECORD
Who we are
Headquartered in Dubai, UAE, The First Group is a dynamic, integrated global property developer with a fast-growing portfolio of upscale hotels, residential properties, F&B brands and real estate asset management services. Since our launch in 2005, we have carved a highly successful niche offering unrivalled property investment opportunities in high-growth markets to clients from more than 70 countries worldwide.
We were among the first developers to identify the tremendous potential in providing private investors the opportunity to purchase hotel guestrooms, suites and serviced apartments in our collection of upscale properties located in highly popular locations across Dubai. This strategy for success provides a blueprint for our ongoing expansion into new and exciting markets worldwide, reinforcing our commitment to developing landmark properties, brands and services that deliver attractive returns to our investors.
We also believe in rewarding our clients with a range of benefits and incentives, from complimentary lifestyle experiences including travel rewards and hotel stays to financial bonuses for referrals. This unique approach reflects our long-term commitment to our clients, ensuring they capitalise on their investments with us today and tomorrow.
Read More
Renowned developer of landmark hotels and apartments in the region
Vast and multifaceted international experience
Expansive global client base who receive lucrative returns
Partner of world-class brands delivering expert services
Presence in key markets worldwide
MEET OUR TEAM
Senior Management Team
DANNY LUBERT
Danny Lubert's vast experience of major global property markets and aptitude for detecting opportunities in key emerging markets has proven key to The First Group's growth to date. Under his guidance, the group of companies has expanded its presence in major markets including the United Kingdom, Spain, Cyprus, South East Asia, West Africa, CIS countries, the United Arab Emirates, and the United States. With a background in commerce and mathematics, Lubert specialises in financial structuring, acquisition and marketing.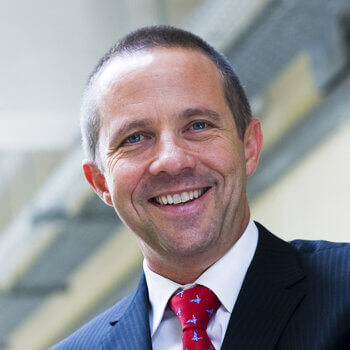 ROB BURNS
Rob Burns is a graduate of Pennsylvania State University where he studied Business, Marketing, and Hotel & Resort Management. His career in property development began 1986 and spans the United States, United Kingdom, Europe, CIS, Africa and the Middle East. He has a diverse background in a wide array of disciplines including the direction of sales and marketing operations, brand advertising, database marketing, direct mail, telesales, print and public relations, as well as extensive interactive experience. Having worked with major global institutions, Burns began his journey with The First Group as Chief Marketing Officer prior to being promoted to Chief Executive Officer.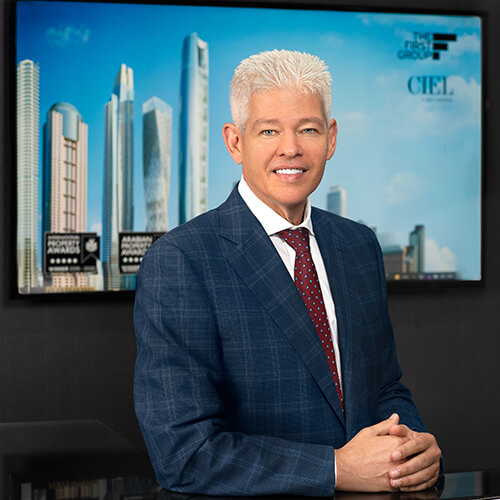 RASHAD BARAJAKLY
Rashad brings a wealth of expertise to The First Group, drawing from a strong background in finance and investment banking in the United States and Dubai. He held senior positions in New York and Atlanta before joining Dubai International Financial Centre (DIFC). From there he went on to assist in the launch of DIFX and later furthered his banking career by working with NBK Capital and boutique investment companies. His experience of operations and finance across the private and public sectors makes him an extremely valuable asset for The First Group.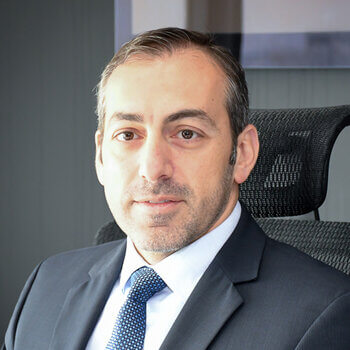 AMR AL BAWAB
Amr boasts more than 30 years' experience working on major projects for high-profile multinational firms and holds a Bachelor's degree in Civil Engineering from the University of Detroit in the US.

Amr has been with The First Group for more than a decade, having played an instrumental role in the company's success to date. As Chief Construction Officer, Amr manages The First Group's complex development timeline, ensuring projects are planned and executed to the highest standards.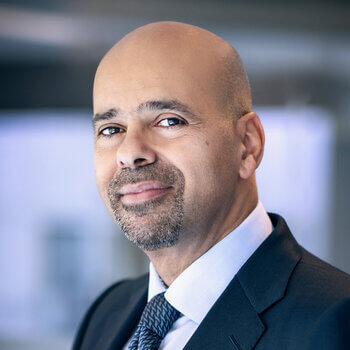 JOE RUBY
Joe is a highly-experienced sales and marketing professional with proven expertise in the real estate, hospitality, travel and retail sectors in markets including the Middle East, United States and the Asia Pacific. Prior to joining The First Group, Joe spent 14 years working as Senior Vice President of Marketing for TFG partner Wyndham Hotel Group's vacation ownership division. In 2013, he joined The First Group, and quickly rose through the ranks before assuming his current role as Chief Marketing Officer.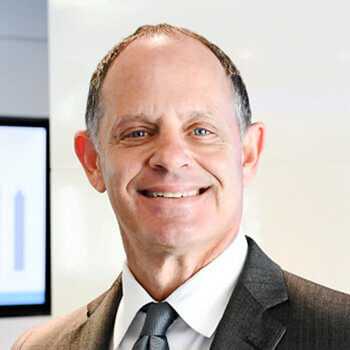 VIVEK RAO
A highly experienced corporate leader with a proven track record of success, Vivek boasts extensive experience in equity and debt capital structuring, asset management, and operational management. Having spent more than 20 years working in Dubai with major names including Tamwheel and Meraas Capital, Vivek is recognised as one of the emirate's leading corporate identities.
As Chief Commercial Officer of The First Group, Vivek plays a key role in the company's financial success, helping shape its commercial strategy and contributing to the firm's overall growth and development. Vivek boasts a Master of Business Administration (MBA) in Finance and Trade from MK University, India. He also currently serves on numerous boards and investment committees for select regional governments and private enterprises.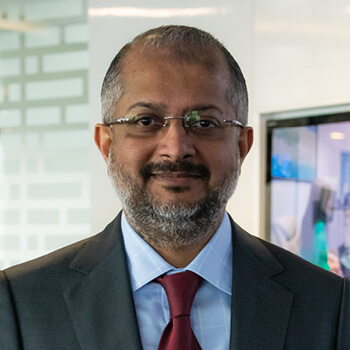 Our visit to Dubai was a truly rewarding experience. We'd like to express our appreciation to The First Group for arranging our tour of its operations and its investment opportunities. As the adage goes, "seeing is believing", and we were truly impressed by The First Group and look forward to investing with the company.
My experience with The First Group has been amazing. The sales team took us step by step from a dream world to a wonderful reality. The explanation of the concept with facts and figures made us feel that investing in your project would propel us to a great opportunity.
This letter is to express my complete satisfaction and appreciation to The First Group. The recent news we heard about my unit in the Grand Central and Matrix was handled smoothly and professionally. The First Group to work well with co-operating realtors in an asset. My account manager kept me informed of every item of the contact and explained thoroughly what was needed from me.
I have been enjoying my stay in Dubai, coming has been fantastic and have been having great times with your colleagues. Finally our visit is quite fruitful, as we have just paid for one unit in Sky Central. We are currently in your office rounding off of the deal.
On behalf of my family and colleagues that came to Dubai on a short visit to see the properties offered for sale by The First Group, I hereby use this medium to express our profound gratitude for opportunity as well as warm hospitality accorded us throughout the period of stay.
I wish to commend you all for your sound level of professionalism and hospitality during our visit to Dubai. We are totally impressed and will still stand on our words, while working out things to own a property with you. Wishing you all the very best in all your business deals.
I am the CEO of a leading firm of Architects Town Planners, and a harmless hello upon arrival at Dubai airport has now metamorphosed into a crystal investment relationship. The rare hospitality, warmth of reception and most of all exceptional professionalism that TFG exhibited got me to sign on to an investment package at the Marina.
The First Group has provided me with expert advice about my property investments and travel arrangements, the latter organised by the firm's travel department. I've very much appreciated the company's professionalism and consistently high quality service.