Dubai named world's most popular travel destination for 2022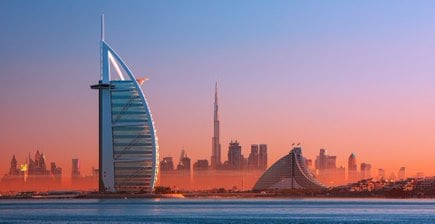 TripAdvisor, the world's largest travel reviews platform, has named Dubai the world's most popular travel destination for 2022 in its annual Travellers' Choice Best of the Best Destinations Awards.
The TripAdvisor programme awards winners based on the quality and quantity of reviews received by users of the online platform across multiple tourism and leisure categories, from hotels and restaurants to local attractions.
Dubai beat perennial favourites London, Paris, Rome, Las Vegas and Bali to claim the prestigious title of most popular destination for 2022, further enhancing the city's reputation as one of the hottest cities on the planet.
In honouring Dubai, TripAdvisor praised the city's blend of "modern culture with history, adventure with world-class shopping and entertainment".
"Catch a show at the Dubai Opera, see downtown from atop the Burj Khalifa and spend an afternoon along Dubai Creek exploring the gold, textile and spice souqs," TripAdvisor suggests in its awards round up. "If you're looking for thrills, you can float above the desert dunes in a hot-air balloon, climb aboard a high-speed ride at IMG Worlds of Adventure or skydive over the Palm Jumeirah."
In compiling this year's award winners, US-based TripAdvisor noted that American travellers were once again keen to travel overseas as the threat of Covid-19 recedes, boding well for Dubai's ongoing tourism-led economic recovery.
"As the world returns to travel, priorities are changing, and people want more memorable experiences on their trips. Three-quarters (75%) of Americans say that it's important they 'see new places' when thinking about their future travel plans," said Steven Paganelli, Director, Destinations, Hotels and OTAs, Americas at Tripadvisor.
The TripAdvisor accolade comes as Dubai's tourism and hospitality industry celebrated a strong end to 2021, with hotel profits close to being on par with 2019.
In fact, according to the latest STR data, Dubai led the world in terms of hotel profit recovery last year, with the emirate's gross operating profit per available room (GOPPAR) reaching 95% of its pre-pandemic comparable level.
The result reinforces Dubai's reputation as one of the world's top tourism destinations and is testament to the city's efforts to provide visitors with a safe and secure environment throughout the pandemic.
The government's Covid-19 recovery strategy was also praised by industry analyst Euromonitor, which ranked Dubai second in its Top 100 City Destinations Index for 2021.
"The city has been open to international tourists since July 2020 and government efforts to mobilise and support the travel and tourism sector have been pivotal," Euromonitor writes. "Dubai is the only city from an emerging country to feature in the top 10 [of the 2021 index], while it ranks highest in terms of Health and Safety among the top 10 cities in the index.
"The vaccination process is easy, vaccination rates are high and stringent safety measures are in place for all public places and tourist spots. As a result, there is increasing visitor confidence among international and local tourists to the city."
Euromonitor also notes the strength of Dubai's economy and the high rate of consumer confidence in the city compared to other major destinations worldwide.
"Dubai is the only emerging market city in the top 10 for Economic and Business Performance. It's well managed Covid-19 crisi allowed for a number faster reopening of consumer services… in addition, Dubai has one of the highest levels of disposable income globally, offering great potential for the city to see improved expenditure on leisure, recreation, and hotels."