Five Reasons why Dubai is Popular with Tourists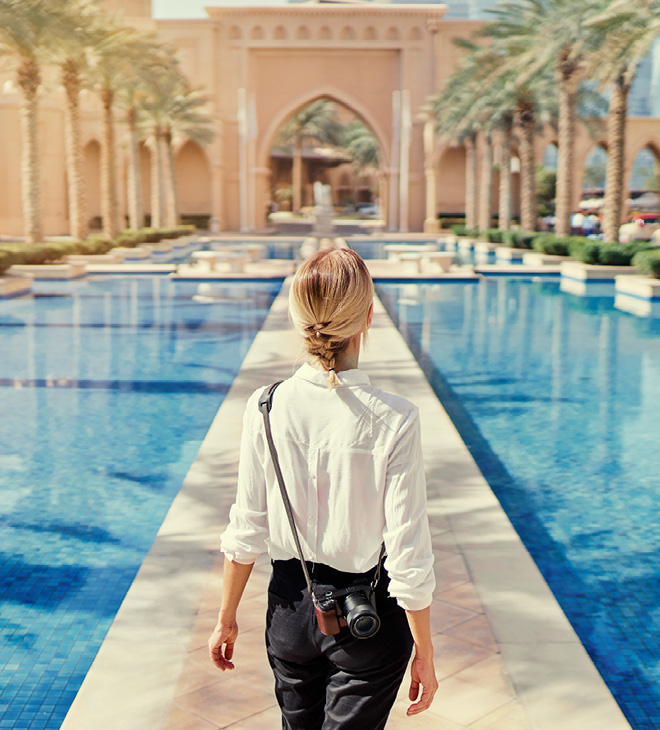 5: It is one of the world's safest destinations, despite the pandemic…
As a global hub for tourism, business, commerce and investment, it is little wonder that Dubai has set the benchmark in its approach to tackling the risk posed by Covid-19 to residents and visitors to the city.
In addition to one of the world's fastest and most successful vaccine rollout programmes,the city's DUBAI ASSURED Covid-19 safety compliance programme certifies every hotel, retail establishment, F&B outlet and tourist attraction that has implemented the government's strict public health protocols designed to mitigate the spread of the virus.The success of these efforts has earned Dubai significant international praise, most notably in the form of the World Travel and Tourism Council (WTTC)'s prestigious 'SafeTravels' stamp.
According to the WTTC, the SafeTravels stamp was created for travellers to recognise destinations and businesses around the world that have adopted the organisation's strict SafeTravels health and hygiene global standardised protocols. It is these types of measures that have encouraged visitors to flock back to Dubai in recent months, as Covid-19 travel restrictions have eased in key international source markets.
4: It is home to world-class attractions
Dubai has invested billions of dollars in developing the world's best tourism infrastructure, from luxury resorts to theme parks, mega-retail destinations and cultural landmarks.
Downtown Dubai, which is home to the world's tallest building, Burj Khalifa, and one of its biggest malls, consistently ranks among the city's most popular tourism destinations. In fact, the world-famous Dubai Mall topped the list of most-popular attractions in 2020, attracting a remarkable 94 percent of all international visitors to the city. The nearby Dubai Fountain ranked second overall with 83 percent of all international visitors, while the city's growing collection of family-friendly attractions demonstrated their popularity in 2020, with top destinations including Dubai Frame (+2 per cent YoY), Legoland (+3 per cent YoY) and Dubai Garden Glow (+2 per cent YoY) all registering increases in visitors last year.
3: Its hotels are famous across the globe
When the world's first and only seven-star hotel, the Burj Al Arab, officially opened its doors in December 1999, few could have envisaged how Dubai's hotel sector would grow over the next two decades, helping put the city on the map as one of the world's top tourism destinations.
Today, international visitors can take their pick from literally dozens of unique hotel experiences, from laidback beachside resorts to ultra-sophisticated five-star properties located in some of the world's most impressive skyscrapers.
Dubai's collection of iconic hotels will soon be joined by a new entrant: Ciel. Situated in the heart of Dubai Marina and developed by The First Group, Ciel will be the world's tallest hotel upon completion and will house the tallest observation deck in the precinct, providing stunning views over the Arabian Gulf. A budding global icon, Ciel will undoubtedly become one of Dubai's most-popular hotels among international visitors to the city.
2: It is one of the world's most cosmopolitan cities
Home to residents from more than 190 countries worldwide, Dubai fuses cosmopolitan living with traditional Arabian flair. There is a feeling of energy no matter where you go in Dubai. From traditional restaurants serving local dishes to a wealth of entertainment options, Dubai has something to offer everyone.
In addition, the emirate's colourful and lively souks offer tourists a real taste of traditional Arabia and provide them the opportunity to try their hand at bartering to buy presents for themselves or gifts for those back home.
1: There's also plenty to do
Where else in the world can you snow ski and enjoy a desert safari on the same day? It is impossible to experience everything Dubai has to offer in a single trip, which is why many international visitors return time and time again.
Visitors can marvel at the modern and beautiful Arabic architecture, discover the history and culture of the emirate, swim with dolphins, ride a camel in the desert, enjoy a day at the waterpark, or even embark on a hot air balloon adventure. The range of experiences are limitless.