Yahya Jan, president & design director, NORR Group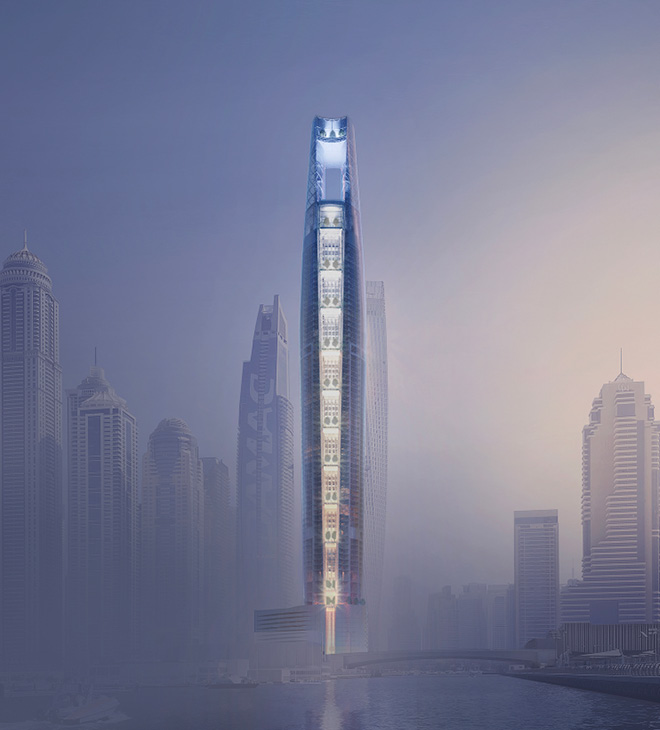 Q: How are things progressing with the development of Ciel. What stage are you at in the design and build process? 
The project is moving quickly in construction. In fact, every week, we see an additional floor completed on the tower. We are finalising the interior design of the mock-up rooms and expect interior fitout to accelerate towards the end of this year. I am delighted with what we have achieved with the project to date. 
The story of Ciel is a journey of collaboration between The First Group and NORR. Together, we are working to deliver a world-class project that will set a new benchmark in Dubai's hospitality scene. 
Q: How will Ciel set new standards for architectural design in a city known for its feats of design and engineering? 
In a city known for its verticality, Ciel will be a unique addition to Dubai's skyline. The building elegantly combines scientific analysis, sculptural form, and landscaped terraces. A signature feature of the tower is its 300-metre-tall atrium with vertically stacked landscaped terraces that provide occupants with shared communal and interactive space. 
Ciel rises dramatically from a podium overlooking the ocean. Abstractly sculpted in metal and glass, the gently curved forms of the tower are an inspired response to vertical living – a dramatic scheme that emphasises the sheer verticality of the tower itself. The positioning of the form on the site and the overall massing of the tower maximises uninterrupted views for its residents.  
The crown of the tower comprises of a roof top pool bar, specialty restaurant and observation deck. Hotel amenities are distributed vertically throughout the tower, each amenity accompanied by a naturally ventilated sky terrace with uninterrupted views out across the Arabian Gulf.  
Q: What are the main design highlights of Ciel? 
Ciel is unique in being an elegant, ocean-front hotel with uninterrupted views over the Arabian Gulf. The design of this hotel strives for simplicity and clarity, providing residents with an interior inspired by Wabi-Sabi, which is a design philosophy rooted in the appreciation of the imperfect and impermanent in nature – a celebration of beauty in simplicity. 
Located on the 82nd floor, at the very top of the tower, the open-to-sky observation deck is a dramatic and final feature of this project. Visitors to the observation deck arrive at a dedicated lobby at the ground level, adjacent to the Marina. From here, they take panoramic glass elevators on a 360 metre vertical ride to arrive at this uniquely located deck with 360-degree views over the ocean, the marina, and back towards downtown Dubai. 
Ciel also houses a range of signature restaurants, including an extensive All-Day-Dining facility at level 12 overlooking the pool deck below. Other F&B facilities include a Specialty Restaurant on level 13, the Sunset Lounge on level 75, and the Horizon Bar at level 77. 
Ciel will also offer business and leisure guests an array of facilities to make their stay relaxing, enjoyable and productive. These include a business centre and meeting rooms at level 16 and a health club and spa located on level 55. The project includes complete hotel servicing, inclusive of kitchens, laundry, and staff facilities.  
Q: How does Ciel compare to some of your other landmark projects worldwide? 
This project promises to set a new benchmark in vertical hospitality, internationally and for the region. Elegant in form and aspiration, Ciel will be recognised for its inventive solutions and for providing its guests with a uniquely memorable experience. 
Q: What unique architectural challenges and opportunities did Ciel's design brief present to you? 
Other than its record-breaking achievements, Ciel's design is an exceptional demonstration of the power of Integrated Design – a multi-layered, simultaneous process necessary in the design of complex structures. For Ciel, this required a highly iterative design effort involving architects, structural and environmental engineers, interior designers, façade engineers, landscape designers, and others to successfully reach an integrated solution that ultimately combines elegance, efficiency, and functionality.