The First Group: Setting the benchmark for innovative hotel design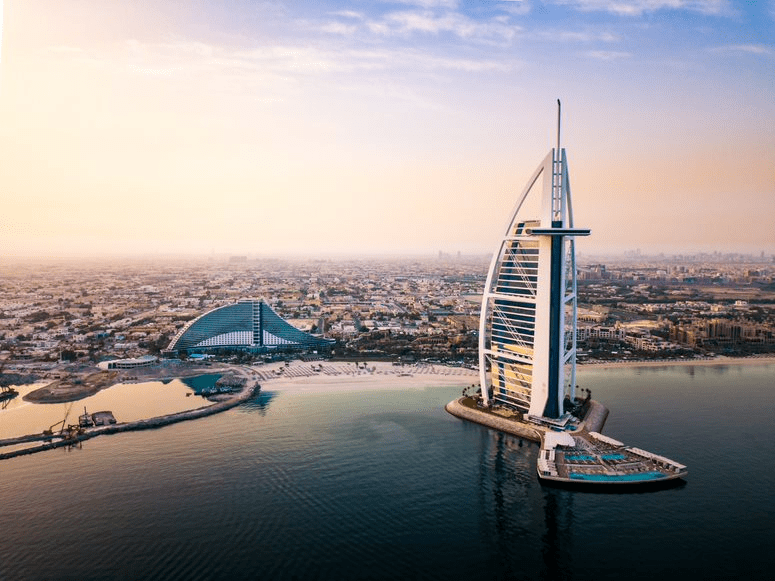 As one of Dubai's leading property developers, The First Group is committed to setting new benchmarks across its fast-growing portfolio of hotel and hospitality assets. 
Nowhere is this approach more apparent than in the company's focus on developing cutting-edge hotels that showcase the very best of innovative architectural design. 
Global recognition
The First Group's efforts to set new design benchmarks have not gone unnoticed by the industry, with many of its landmark developments picking up multiple international design awards in recent years. 
The firm's landmark hotel, Ciel, which is currently under development in Dubai Marina and is set to become the world's tallest hotel upon completion, has led the way in this respect.  
Befitting its global profile, Ciel, claimed top honours in the Hotel Architecture, New Hotel Construction and Design, Commercial High-rise Development, and Residential High-rise Architecture categories respectively at the 2019-20 Arabian Property Awards (APAs). 
Ciel also went on to win three major awards at the 2019-20 International Property Awards (IPAs): Best International Hotel Architecture, Best Hotel Architecture Arabia and Best Residential High-rise Architecture Arabia. 
The APAs and the IPAs rank among the largest and most respected annual awards programmes dedicated to commercial property development. 
Awards entrants in both programmes are judged by a highly respected independent panel comprising more than 80 industry experts and chaired by Lord Caithness, Lord Best, The Earl of Liverpool, and Lord Waverley, who are all members of the House of Lords in the UK Parliament. 
The judging panel considers factors including design, quality, service, innovation, originality, and commitment to sustainability, when selecting winners in each category. 
The First Group celebrated another strong showing at the following year's instalment of the APAs, with two of its most high-profile projects – the recently opened The First Collection Jumeirah Village Circle and The First Collection Business Bay – winning in five major design categories. 
The stylish 496-guestroom The First Collection Jumeirah Village Circle was named the winner in three Dubai-based categories: New Hotel Construction & Design; Hotel Architecture; and Hotel Interior, while the 492-guestroom The First Collection Business Bay, claimed top prize in the Hotel Architecture – Dubai and New Hotel Construction & Design – Dubai awards categories. 
Dynamic design partnership
All three hotels have been designed by leading architectural firm and long-term TFG partner, NORR Group. 
Befitting the iconic nature of the development, Ciel arguably encapsulates the very finest aspects of The First Group's forward-looking design ethos. 
According to Yahya Jan, NORR Group's president & design director, in a city known for its verticality, Ciel will be "a unique addition to Dubai's skyline".  
"The building elegantly combines scientific analysis, sculptural form, and landscaped terraces," he says. 
"The story of Ciel is a journey of collaboration between The First Group and NORR. Together, we are working to deliver a world-class project that will set a new benchmark in Dubai's hospitality scene." 
Other than its record-breaking achievements, Ciel's design is an exceptional demonstration of the power of Integrated Design, Jan explains.  
"For Ciel, this required a highly iterative design effort involving architects, structural and environmental engineers, interior designers, façade engineers, landscape designers, and others to successfully reach an integrated solution that ultimately combines elegance, efficiency, and functionality," he says. 
"Ciel is unique in being an elegant, ocean-front hotel with uninterrupted views over the Arabian Gulf. The design of this hotel strives for simplicity and clarity, providing guests with an interior inspired by Wabi-Sabi, which is a design philosophy rooted in the appreciation of the imperfect and impermanent in nature – a celebration of beauty in simplicity." 
Ciel: Setting a benchmark for vertical hospitality
Towering a remarkable 345 metres and 82 floors above the busy streets of Dubai Marina, Ciel will provide guests with a tranquil retreat far removed from the hustle and bustle of city life. 
"This project promises to set a new benchmark in vertical hospitality, internationally and for the region," comments Mikhail Speshilov, project architect for The First Group. "Elegant in form and aspiration, Ciel will be recognised for its inventive solutions and for providing its guests with a uniquely memorable experience." 
According to Speshilov, a signature feature of the building's design is a 300-metre-tall atrium "with vertically stacked landscaped terraces that provide occupants with shared communal and interactive spaces". 
Situated in the heart of Dubai Marina, Ciel's physical positioning and the overall massing of the tower itself maximises uninterrupted views for guests.  
The crown of the tower comprises of a rooftop infinity pool, specialty restaurant and observation deck. Hotel facilities are distributed throughout the tower, with each amenity accompanied by a naturally ventilated sky terrace providing uninterrupted views out across the Arabian Gulf.  
Ciel's development has continued unabated through the Covid-19 pandemic, and according to Jan, the project is "moving quickly in construction". 
"In fact, every week, we see an additional floor completed on the tower," he explains. "We are finalising the interior design of the mock-up rooms and expect interior fitout to accelerate towards the end of this year. I am delighted with what we have achieved with the project to date."