The World's Greatest Show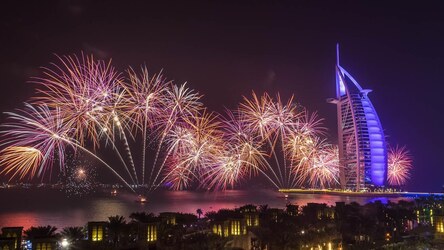 After a 12 month-delay because of the Covid-19 pandemic, Expo 2020 Dubai – the largest event ever to be staged in the Middle East, Africa and South Asia (MEASA) – will finally open its doors in October. 
Over the course of 182 days, exhibitors from more than 200 countries will showcase their national identities and their visions for the future at a dedicated site in Dubai South that has been developed from scratch at a cost of billions of dollars. 
Staged under the theme, 'Connecting Minds, Creating the Future', Expo 2020 Dubai acknowledges that creating sustainable solutions to global challenges demands collaboration between cultures, nations and regions.  
For the first time in Expo's 170-year history, each participating country will have its own pavilion, providing delegates an opportunity to showcase their cultural achievements and promote efforts to create a more sustainable future for the planet.  
"Expo 2020 Dubai will [soon] open its doors to the world," comments HH Sheikh Ahmed bin Saeed Al Maktoum, chairman of the Expo 2020 Dubai Higher Committee.  
"Working closely with local and federal UAE Government organisations, our International Participants and Official Partners, plus all categories of the UAE community, we will ensure that Expo 2020 will be an unparalleled experience for all who enter our doors and that its legacy will be a source of pride for the UAE and its people," he adds. 
Expo 2020 Dubai is expected to attract more than 25 million visitors over its six-month duration, despite the challenges presented by Covid-19 to international travel.  
According to Reem bint Ibrahim Al Hashemy, Minister of State for International Cooperation, and director general of the Expo 2020 Dubai Office, Expo 2020 organisers have implemented rigorous health screening protocols to ensure the safety of all visitors to the event. 
Across the Expo site, dozens of thermal cameras and sanitisation stations have been installed, while all delegations will undergo mandatory PCR testing and onsite employees will be required to have received a Covid-19 vaccine. 
"[Expo 2020] will witness an unprecedented international presence… despite the Covid-19 pandemic and the dire conditions affecting the world," she says. "This is a vote of confidence we are proud of. As everyone knows, the UAE had to postpone the expo for one year, but now, the presence of international delegations and their participation highlights their confidence in our ability to host the event in October 2021. 
"We are keen to adopt appropriate safety procedures and the importance of wearing facemasks and maintaining social distancing," Al Hashemy adds.  
"As the world [has] changed, we too have adapted… We have created an Expo that will delight and inspire explorers and entrepreneurs, children and grandparents, casual tourists and the curious who want to experience the future – now." 
Expo 2020 Dubai is being staged under the sub-themes Opportunity, Mobility and Sustainability.. 
Sustainability is integral to Expo 2020's overarching goals and its essence is encapsulated in Expo 2020's Terra – The Sustainability Pavilion. A standout attraction of the Expo site, the venue is both a pioneering example of ultra-modern architecture and showcase for renewable design. 
According to official forecasts, Expo 2020 is expected to generate US$33 billion for Dubai's economy and create 300,000 new jobs, while its legacy will be to help transform the emirate into a global hub for entrepreneurship, innovation and research and development. 
Expo 2020 Dubai will also showcase the emirate's dynamic economy, helping consolidate its reputation as one of the world's most popular business and investment hubs.  
"Hosting the first World Expo in the region embodies the vision of His Highness Sheikh Mohammed bin Rashid Al Maktoum, Vice President and Prime Minister of the UAE and Ruler of Dubai, for the country to become a global hub for enlightenment, creativity, innovation and human coexistence. We have always understood that the success of this national project requires a concerted, collective effort among UAE Government entities, as well as partners and participants from across the world," says Al Hashemy. 
"Drawing on the UAE's spirit of hope and optimism, we will work with our partners to deliver real-life solutions to real-life challenges. Expo 2020 will contribute to the UAE leadership's strategy, reinforcing the nation's standing as one that pushes boundaries and achieves things others felt were impossible." 
What visitors can expect to find at Expo 2020 Dubai
From 1 October 2021 to 31 March 2022, millions of visitors from across the world will descend on Dubai for Expo 2020. So, what can they expect to experience? Here are some of the highlights:  
Al Wasl Plaza
The central hub of the Expo 2020 Dubai site, Al Wasl Plaza is an architectural masterpiece and is sure to become one of the event's most popular attractions. The main venue for live events at Expo 2020, Al Wasl Plaza boasts a dome so tall it could fit Italy's famed Leaning Tower of Pisa inside it. At night, the venue transforms into an incredible 360-degree projection screen, blanketed by 252 state-of-the-art projectors. 
Al Forsan Park
A tribute to the Emirati love of horses, the 'horsemen', or 'cavalry' park in Arabic comprises of 2.2-hectares of interlaced paths, with attractions ranging from artistic fountains to Latifa's Playground. The site also houses the palm-framed Dubai Millennium Amphitheatre, which is named after one of HH Sheikh Mohammed's most successful racehorses.  
The UAE Pavilion 
Conceived by renowned architect Santiago Calatrava, the UAE Pavilion is designed to resemble a falcon taking flight.  
Jubilee Park
Set to host many of the UAE's centennial celebrations, the 23,000 sq m Jubilee Park boasts countless attractions, from kids' play areas to delicious food offerings and large-scale art installations.  
The Good Place by Expo Live
Here, visitors can step inside a venue designed to resemble the majilis in which the UAE's founding fathers met to discuss plans for the country's establishment in 1971. It will showcase social innovations and world-changing initiatives.  
The Ghayath Trail
Named in honour of a prized falcon owned by Dubai Crown Prince HH Sheikh Hamdan bin Mohammed bin Rashid Al Maktoum, the Ghayath Trail is an art and nature walk designed to showcase the UAE's iconic landscapes. 
Jubilee Falls
Each night this outdoor venue will host a symphony of music, choreographed water and fire displays.  
Space City Playground
Showcasing the UAE's successful launch of the Hope Probe Mars orbiter as well as its long-term ambitions to establish a colony on the Red Planet, this venue features exciting attractions including a 'zero-gravity' chamber.