THE FIRST GROUP SWEEPS FIVE MAJOR CATEGORIES AT 2020-21 ARABIAN PROPERTY AWARDS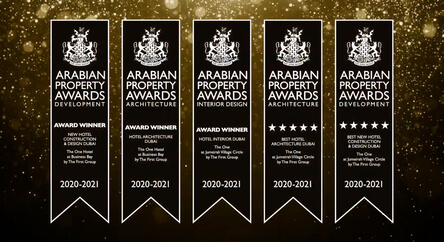 Integrated global property developer The First Group is celebrating another strong showing at the prestigious Arabian Property Awards, with two of its most exciting upcoming projects – The One at Jumeirah Village Circle and The One Hotel at Business Bay – winning in five major categories in this year's programme.
The stylish 491-guestroom The One Hotel at Jumeirah Village Circle, which will operate under the renowned Ramada Plaza brand upon completion, claimed the top prize in three Dubai-based categories: New Hotel Construction & Design; Hotel Architecture; and Hotel Interior.
Meanwhile, the centrally located, 492-guestroom The One Hotel at Business Bay, which will operate as Millennium Place Business Bay, was an award winner in the Hotel Architecture – Dubai and New Hotel Construction & Design – Dubai categories.
Both properties will set new standards for upper midscale hotel design in Dubai, while providing a wide range of premium guest amenities and services certain to appeal to leisure and business travellers alike.
The Arabian Property Awards is the largest and most respected annual awards programme dedicated to the Middle East's booming commercial property development sector.
The First Group formally accepted the awards in a virtual ceremony scheduled on 5 November, where the firm will also compete for top regional honours in its respective categories against rival developers from across the Middle East and Africa.
Regional winners will subsequently be entered into the International Property Awards (IPAs), where they will vie with the world's best property developments for overall global honours.
The firm's achievements at this year's Arabian Property Awards follow its remarkable success at the 2019-20 instalment of the event, which saw its flagship project in Dubai Marina, Ciel, claim top honours in the Hotel Architecture, New Hotel Construction and Design, Commercial High-rise Development, and High-rise Architecture categories respectively.
Ciel, which is set to become the world's tallest hotel upon completion and has already attracted significant global attention thanks to its iconic design, went on to win three major awards at the 2019-20 IPAs: Best International Hotel Architecture, Best Hotel Architecture Arabia and Best High-rise Architecture Arabia.
"After celebrating Ciel's outstanding success at last year's International Property Awards, we are hugely excited to again have two of our most important upcoming hotel developments, The One at Jumeirah Village Circle and The One Hotel at Business Bay, rank among the big winners at the 2020-21 Arabian Property Awards," commented The First Group CEO Rob Burns.
"As a leading developer, we are always striving to set new benchmarks for architectural and interior design, so for these projects to be recognised by the region's most prestigious industry awards programme in this manner is a real honour for us."
The Arabian Property Awards are judged by a highly respected independent panel comprising more than 80 industry experts and chaired by Lord Caithness, Lord Best, The Earl of Liverpool, and Lord Waverley, who are all members of the House of Lords in the UK Parliament.
The judging panel considers factors including design, quality, service, innovation, originality, and commitment to sustainability, when selecting winners in each category.
The First Group is recognised as one of the region's fastest growing and most dynamic hotel developers. Its award-winning portfolio comprises Wyndham Dubai Marina, Millennium Place Marina and TRYP by Wyndham Dubai, with another seven properties currently under development in Dubai's most popular districts, including Business Bay, Dubai Marina and Jumeirah Village. The firm continues to assess sought-after locations across the emirate with a view to further expanding its development footprint.