Hot property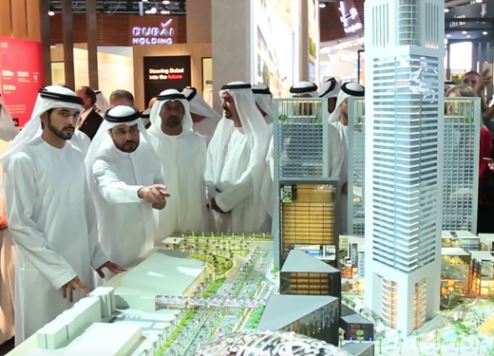 The 2017 edition of Cityscape Global proved one of the most successful instalments yet, with off-plan property sales breaking records on the first day of the show
This year's instalment of the Middle East's largest real estate and investment show, Cityscape Global, proved one of the most successful instalments to date, according to event organisers.
The show's success is testament to Dubai's ever-growing appeal as one of the world's top real estate investment destinations.
The event, which took place at Dubai World Trade Centre (DWTC) from 11-13 September, not only witnessed a significant 25 percent hike in visitors during its first two days, but had a major impact on the city's real estate market, with the Dubai Land Department (DLD) revealing it was the catalyst for a 186 percent year-on-year increase in registered transactions for off-plan units.
In addition, Cityscape Global data partner, Property Monitor, a leading real estate intelligence platform developed by property consultant Cavendish Maxwell, revealed that the number of real estate transactions reported for off-plan properties on the first day of Cityscape Global 2017 almost tripled year on year, from 37 in 2016 to 106.
"Looking back at the opening day for 2016's edition compared to 2017's we can see a dramatic leap in the number of registered DLD transactions made for off-plan units," confirms Lynnette Abad, partner and head of Property Monitor.
"Permission to sell during the show has seemed to catalyse investors and buyers in the region, and has resulted in a noticeable increase in activity."
Cityscape Global exhibition director Tom Rhodes says the 2017 edition attracted a "new wave of investors" who were capitalising on "attractive pricing" during the exhibition.
A new study released at the show reveals Dubai has retained its title as the most appealing city in the world for real estate investments among GCC residents.
The UAE also ranks first among real estate investors in the GCC region, according to the Real Estate Barometer study by internet-based market research firm, Yougov and Cityscape Global.
When asked where they felt most confident investing their money globally, 69 percent of Gulf residents picked Dubai as the 'go to' city for real estate investments.
Two-thirds (66 percent) also expected the upcoming Expo 2020 Dubai to increase property buyer interest in the UAE.
Rhodes says the research provides important insights into current market conditions and helps exhibitors forecast expectations for real estate investment.
He notes a "change of investor mind-set" when it comes to the size of property sought, shifting from one-bedroom and studio apartments in 2016 to a majority (54 percent) seeking two- to three-bedroom apartments in 2017.
"This could signal a vote of confidence from investors and home buyers as reports point to a rejuvenation in the real estate sector," he continues.
"The research [also] tells us that investors are seeking value for money (88 percent), good quality of housing (87 percent) and easy access to major roads (75 percent) when buying residential units."
The 2017 edition of Cityscape Global not only exhibited residential properties, but showcased upcoming projects too, the most talked about of which was District 2020 – the hotly anticipated Expo 2020 Dubai legacy development.
It promises residents and visitors a "brand new urban experience' when it opens in Q4, 2021, and is being pitched by the Dubai Expo 2020 Bureau as a long-term economic contributor for the UAE as a home for innovators, original thinkers and pioneers, creating jobs and attracting investment.
The district will include 65,000 square metres of residential space and 135,000 square metres of commercial space in a location that will be home to world-class innovation, educational, cultural and entertainment facilities, as well as a conference and exhibition centre.
It is designed to facilitate modern ways of living, blending work and recreation in an ecosystem that fosters closer connections – physically and digitally.
Meanwhile, Dubai will be the first cruise destination in the world to build two terminals simultaneously, developer Meraas revealed at the show.
When completed, the two facilities, each around 14,000 square metres in size, will accommodate 1.2 million passengers annually.
The addition of a second terminal is intended to build on Dubai's reputation as a leading tourism destination, while capitalising on strong growth in the cruise industry globally. Industry data suggests that more than 40 million people will cruise annually by 2030, up 40 percent from 24 million in 2017.
"By creating a world-class destination that appeals to people around the globe, Dubai Harbour represents an opportunity to achieve economies of scale and drive growth in the maritime tourism sector. It will also help maintain Dubai's status among the world's top tourism destinations for generations to come," says HE Abdulla Al Habbai, group chairman, Meraas.
In addition to serving the cruise ship industry, Dubai Harbour will also feature the largest marina in the MENA region, which once complete, will feature 1,100 berths capable of accommodating some of the world's biggest private yachts.
Union Properties used Cityscape Global as an opportunity to disclose details of the remastered plan for its Dubai Motor City project.
The revised AED2.17 billion master plan includes a sports-themed mall known as The Central, featuring a 250-metre velodrome, a 700-metre elevated running track and an Olympic-sized swimming pool, which will be managed by Union Malls. It will also contain a new, automobile-themed museum and a centre for classic car sales.
The mall will be close to many of The First Group's residential properties in Dubai Sports City (DSC) and to its upcoming hotels in Jumeirah Village Circle and Jumeirah Village Triangle.