Welcome to Dubai
Known for its palm-shaped islands and spectacular skyscrapers, Dubai is a fusion of ancient traditions and futuristic vision. The largest of the seven emirates, the multicultural metropolis has boomed into a global hub offering a kaleidoscope of experiences, world-class shopping and gastronomic cuisine. Tourism in Dubai is experiencing tremendous growth over the years. In the recent past, it has been a major source of the UAE's economic growth.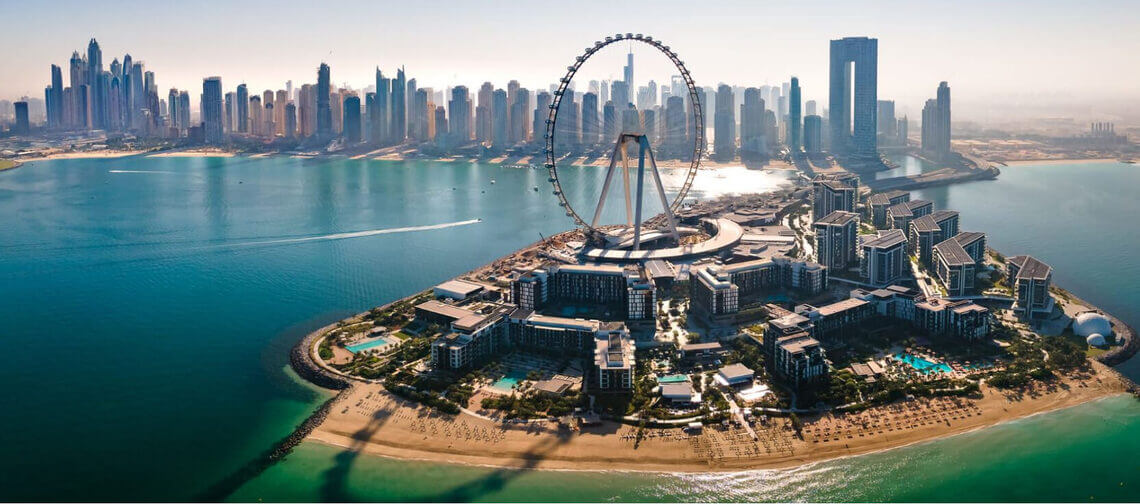 Tourism in Dubai
The city of high-rises, mega malls and luxury resorts, Dubai has invested billions into developing the world's best tourism infrastructure and frequently tops the list of Guinness World Records for its superlative landmarks and iconic attractions. Among these are the world's tallest building, Burj Khalifa, and the highest Ferris wheel, Ain Dubai (Dubai Eye), on Bluewaters Island.
"There are 237 skyscrapers in Dubai, the 4th highest city by number and height!"
The world's 4th most visited city, Dubai offers an enticing array of bucket-list adventures, from skydiving to unforgettable Dubai safari excursions. Other world-famous attractions to visit in Dubai include the Dubai Opera House, Dubai Museum, and Dubai Miracle Garden, the world's largest natural flower garden.
Dubai is also home to the UAE's largest shopping mall, The Dubai Mall, which is equivalent in size to 50 soccer fields and one of the best places to go in Dubai to shop for luxury brands!
A Global Hub for Tourism & Investment
#1
---
Busiest International Passenger Airport
#2
---
Destination at Tripadvisor Travellers Choice Awards
#3
---
Safest City in the World
#4
---
Most-Visited City in the World
Dubai's hotel sector has become a lucrative investment option driven by the city's strong tourism and its status as the Middle East's most advanced hub. The second wealthiest emirate in the UAE, Dubai's currency is pegged against the US Dollar, making it viable for international investors to buy property in Dubai. Its hotel industry has enjoyed 40% annual growth since Dubai's hotel boom and ranks third among the world's top Foreign Direct Investment cities.
Dubai's Top Neighborhoods
Expo 2020 Dubai is the first World Expo to ever be hosted in the Middle East. A massive boost for tourism in Dubai, the six-month event is a precursor to the government's visionary Urban Master Plan, a strategy for Dubai's ambitious growth for the next two decades. While parkland and recreational space will account for more than half of the city's total area, Dubai's infrastructure will be able to cater for the 5.8 million people who will call Dubai home by 2040.
Dubai Lifestyle Investment Visit
Dubai Lifestyle Investment Visit is a bespoke discounted investor travel package that offers you the chance to visit Dubai while experiencing The First Group's award-winning hotels and lucrative property investment opportunities in Dubai.