Dubai's top 5 upcoming mega malls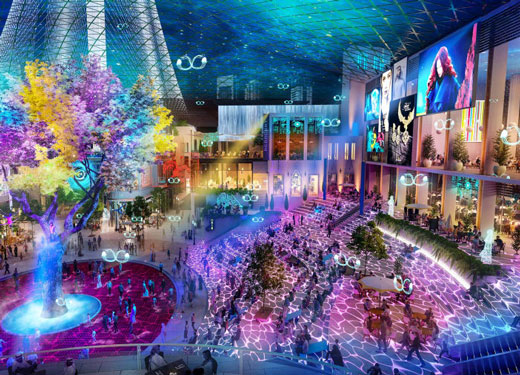 These five upcoming retail attractions are set to help consolidate Dubai's reputation as one of the world's top experiential shopping destinations
Dubai Square
In a city well known for its massive shopping malls, Dubai Square will reset the bar when it opens in 2021. The centre will boast an incredible 8 million sq ft of retail space – more than double the size of Dubai Mall – making it the world's largest by some margin. In addition to being home to the Middle East's first Chinatown precinct, the centre will feature a futuristic entertainment arena, a water park and a massive sporting facility. The $2 billion project also promises a revolutionary, high-tech retail experience, with augmented reality technology being used extensively across the centre. Fashion outlets will feature smart fitting rooms equipped with interactive mirrors, while shoppers will be able purchase goods using their mobile devices. RFID technology will also help guide shoppers around the massive complex.
Deira Mall
The second-largest mall under development in Dubai with 4 million sq ft of leasable space, this mega retail centre will also outmuscle Dubai Mall (3.77m sq ft) in terms of size when it opens in 2020. Developed at a cost of US$1.66 billion, Deira Mall will feature a number of exciting innovations, including a state-of-the-art retractable skylight that will house two massive domes and span a total length of more than 500 metres. Deira Mall will feature more than 1,000 retail outlets, cafés, restaurants and entertainment outlets across three floors. The mall is the centrepiece of the massive Deira Islands development, which is a 15.3 sq km waterfront master community spread across four man-made islands in the heart of Deira, Dubai's 'old town' precinct.
Meydan Mall
Meydan Mall will also take the experiential retail concept to the next level when it opens in late-2020. More than 150,000 sq ft of mall space will be dedicated to the centre's remarkable array of entertainment attractions, which include a 1km indoor ski slope; 500 metres of sandy beaches; a water park; an electric go-karting track; a 380-metre-long dancing fountain; and a multipurpose events space capable of accommodation 30,000 people. In terms of shopping and other entertainment, the mall will feature 600 retail outlets; a hypermarket; 100 F&B outlets; a 21-screen cinema complex; and a 258,000-square-foot indoor multi-purpose sports facility.
Dubai Hills Mall
This mega mall will boast more than 2 million sq ft of leasable space and house four distinct family entertainment and leisure precincts, according to master developer Emaar. Scheduled to open next year, the mall will feature more than 650 retail and entertainment outlets, in addition to a 20-screen cineplex, a 65,000 sq ft hypermarket, and seven anchor retail experience stores. It is the centrepiece of the new Dubai Hills Estate master development, which covers a total area of 36 million sq ft and features 7.21 million sq ft of green space, including a 590,000 sq ft public park.
Al Khail Avenue
Located just minutes from The First Group's three hotel properties in Jumeirah Village – Wyndham Garden JVC, Millennium Place JVT and Avalon Tower by Copthorne – this massive retail centre is currently under construction in Jumeirah Village Triangle. Described by developer Nakheel as a "bustling retail and entertainment destination", Al Khail Avenue will cover a total area of close to 2 million sq. ft. Inside, the development will feature more than 1.1 million square feet of leasable space, 350 retail outlets, a 14-screen cinema, Waitrose supermarket, cafes, restaurants, al fresco dining venues and a multi-storey car park with 4,400 spaces.