Africa's biggest nation eyes Dubai opportunities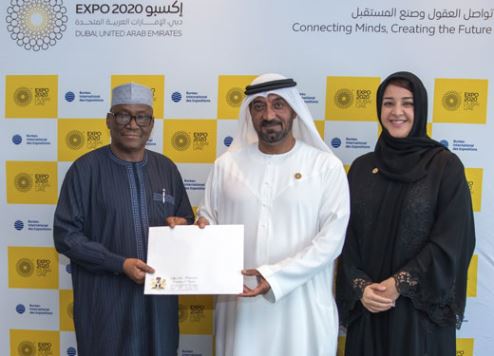 Nigeria to showcase its innovative economic growth plan at Expo 2020 Dubai
Africa's most populous country, Nigeria, has announced it will join the UAE's celebration of ingenuity, Expo 2020 Dubai.
The country's participation was recently confirmed in a letter delivered by His Excellency Mohammed Dansanta Rimi, Ambassador of the Federal Republic of Nigeria to the UAE, to His Highness Sheikh Ahmed bin Saeed Al Maktoum, Chairman of the Expo 2020 Dubai Higher Committee.
Expo 2020 Dubai will be the ideal platform for Nigeria to demonstrate how, through its Economic Recovery Growth Plan 2017-2020, it is working to overcome a recent economic recession to achieve stability, ensure energy sufficiency, guarantee agriculture and food security, encourage foreign direct investment, and build youth capability to take the country into the future
Examples include investing in youth education to fill the skills gap in the economy, developing innovative agricultural practices to achieve self-sufficiency in a number of key staples, including rice (in 2018) and wheat (in 2020), implementing universal healthcare coverage, and granting tax incentives to pioneering industries deemed beneficial for the economic development of the country and employment of its workforce.
"People and innovation are at the heart of World Expos, which is why we are delighted to welcome Nigeria as the latest country to formally announce its participation at Expo 2020 Dubai," says His Highness Sheikh Ahmed bin Saeed Al Maktoum.
"Expo 2020 will be the first World Expo to be held in the developing world, and will be for the developing world, so we look forward to working with Nigeria and other confirmed African countries on our journey to 2020."
Through its overall theme, 'Connecting Minds, Creating the Future', Expo 2020 Dubai will be a platform to foster creativity, innovation and collaboration globally, giving millions of visitors a glimpse into the future, guided by its three pillars: Opportunity, Mobility and Sustainability.
His Excellency Mohammed Dansanta Rimi, says: "Expo 2020 Dubai will be an unmissable opportunity for Nigeria to showcase the hard work we are doing to ensure economic growth and progress for our country in both the short and long term.
"We want to show the world how we are working to improve the lives of our youth and people, while opening up our economy and encouraging foreign investment – and Expo will be the ideal platform for us to do so."
World Expos, which date back to the 1851 Great Exhibition in London, have always celebrated the latest innovations designed to make the world a better place. Expo 2020 Dubai is no different, and through its Expo Live programme it has an allocation of US$100 million to back projects that offer creative solutions to pressing challenges that impact people's lives, or help preserve the world – or both.
Nigeria is already benefitting from Expo Live. During the first two cycles of the flagship Innovation Impact Grant Programme, 45 Expo Live Global Innovators from 30 countries were selected, with two, MOBicure and West Africa Vocational Training (WAVE), providing working examples of Expo supporting innovative ideas originating from Nigeria.
MOBicure's OMOMI application helps expectant mothers and parents of under-five-year-olds monitor the wellbeing of their children from home, which can be life-saving for families living in remote areas or who cannot afford to attend a medical facility. Since its launch in Benin City in 2015, more than 30,000 parents have used the platform and the funding from Expo Live will help it reach even more families.
Lagos-based startup WAVE prepares young people in Nigeria for employment opportunities in the expanding hospitality and retail sectors, training unemployed youth with the skills they require to get their first job and start building a career for a brighter future.
Nigeria and the UAE already share strong bilateral relations, with non-oil trade between the two countries amounting to $1.3 billion in 2016.
More than 150 countries have already confirmed their participation in Expo 2020 Dubai, including the majority of African nations.
Expo 2020 Dubai will abide by a one nation, one pavilion policy – making the event the first World Expo in history where every country will have its own individual pavilion.
Expo 2020 Dubai will run for six months from October 20, 2020 to April 10, 2021 and is expected to record 25 million visits, with 70 percent anticipated to come from outside the UAE. More than 180 countries are expected to take part, with further national participation announcements expected in the coming months.