TRYP by WYNDHAM DUBAI AT CENTRE OF CITY'S EXPANDING CO-WORKING SCENE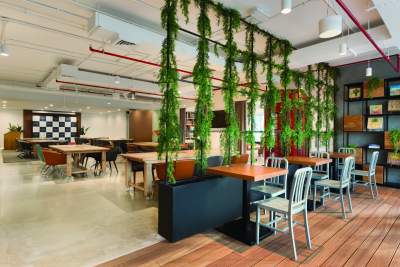 The UAE is the fourth-best country in the world for freelancers to work according to a study by Expert Market. More and more people are flocking to independent work and the freelance economy is booming in the UAE, as individuals swap the traditional 9-5 office environment for more comfortable and flexible workspaces.
As more people choose to work outside of the traditional office space, nearest coffee shop or kitchen, today's remote workers are now seeking sophisticated, working environments that offer much more than just a reliable Wi-Fi connection.
Located at TRYP by Wyndham Dubai in Barsha Heights, NEST is leading the way when it comes to offering a convenient and fully serviced space for today's modern workers.
Designed for hosting meetings, group activities or private and more focused work sessions, NEST is where Dubai's entrepreneurial and freelance communities meet and grow - perfectly in keeping with the venue's slogan 'Space to Hatch – Room to Soar'.


NEST offers a range of flexible membership options, from daily to monthly and yearly with each package providing a variety of benefits including access to the co-working space and meeting rooms, dining discounts, pool, and gym access, preferred room rates and more.
The various membership packages, convenience, and benefits of being based in an international hotel has enabled NEST to successfully tap into one of the fastest-growing work/lifestyle trends to emerge in recent years.
Mohamed Hassan, Operations Manager at TRYP by Wyndham Dubai said: "The number of consultants, freelancers, and entrepreneurs who are choosing to move away from the traditional office setting in favour of co-working spaces and the flexibility they bring continues to grow here in Dubai.
"Recent changes to the UAE's employment visa rules and the ease of acquiring new licenses have helped to fuel this growth.
"NEST at TRYP by Wyndham Dubai has successfully tapped into this bourgeoning sector by meeting the demand for comfortable and affordable working areas that can be accessed at a time that's convenient for the individual.
"We also offer competitive packages that include use of the hotel's facilities and discounts at the dining outlets. The workspaces are just one part of the comprehensive services available at NEST. Each package can be tailored to suit the individual needs and budgets of each person – as memberships are completely flexible. We understand that as remote workers, people have different needs and priorities from a workspace so we are happy to offer bespoke solutions at NEST.