Ciel by The First Group on Track to Stand as World's Tallest Hotel in H1 2024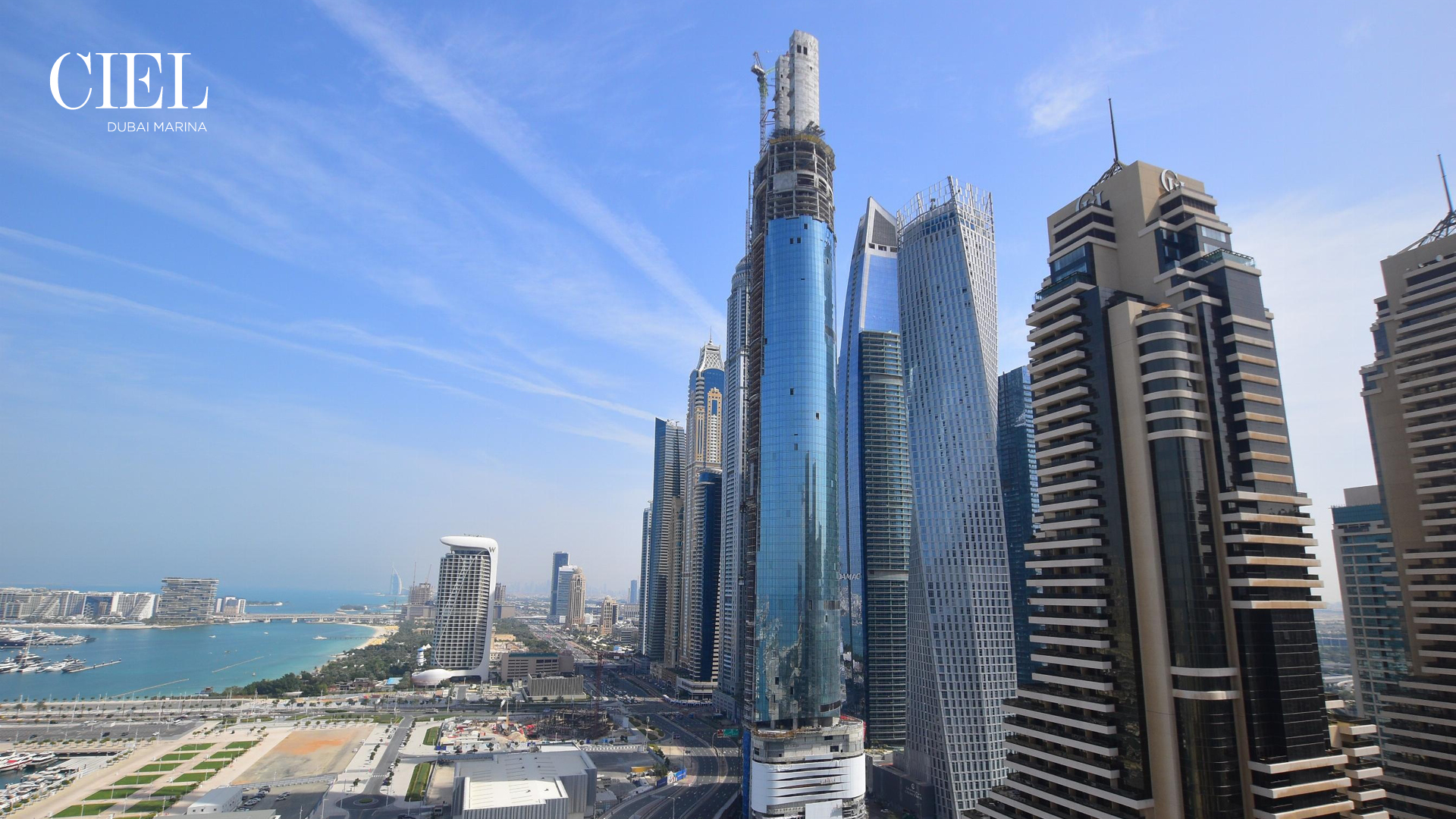 The First Group is proud to announce that its flagship hotel, Ciel, is on track for its H1 2024 completion of construction. Set to be the tallest hotel in the world, the 82-storey architectural marvel is the centrepiece of The First Group's fast-growing portfolio of world-class hotels that set new industry benchmarks in the UAE.
From a design perspective, Ciel is undoubtedly The First Group's largest and most complex development to date. The building itself encapsulates the power of Integrated Design – a multi-layered, simultaneous process necessary in the creation of complex superstructures. The superstructure is 99% complete, and the mechanical, electrical and plumbing (MEP) 1st and 2nd fix work is now 80% complete in the building's basement, podium floors, and storey levels.
The installation of building façade brackets is now complete up to the 72nd floor, and the curtain wall installation is ongoing and has reached the 70th floor. At present, the convey system installation has reached 53% completion, while the fixation of the steel trusses in the atrium has been finished. The tiling work has reached 66% completion, and the installation of wall partitions and plastering is 97% complete.
"We are thrilled to bring Ciel to Dubai's skyline, a ground-breaking project that will redefine upscale hospitality and showcase the best of what the city has to offer. Despite the challenges presented by the pandemic, we are making great progress and firmly on track to open the property officially in 2024. Ciel will offer guests an unparalleled experience with its unique design, luxury amenities, and stunning views. Ciel is not just a building, but a symbol of Dubai's ambition, innovation, creativity, and excellence", said Rob Burns, CEO, The First Group.
Designed in conjunction with The First Group's long-term architectural partner, NORR Group, Ciel boasts a number of innovative features, including an observation deck with panoramic views of Dubai's skyline, the Palm Jumeirah, and Arabian Gulf on the 81st floor and a rooftop infinity pool and bar on the 76th floor. Another standout feature is the hotel's 300-metre-tall interior atrium that boasts vertically stacked landscaped and naturally ventilated terraces, which will provide occupants with shared communal and interactive space.
Ultimately, Ciel's impressive design reflects its landmark status as the world's tallest hotel. The design itself has received global praise, with the hotel winning 2019 International Property Awards (IPAs) for Best International Hotel Architecture, Best Hotel Architecture Arabia, and Best Residential High-rise Architecture Arabia. Ciel also received the top prize in four major categories at the 2019-2020 Dubai, Africa & Arabia Property Awards: Hotel Architecture; New Hotel Construction and Design; Commercial High-rise Development; and Residential High-rise Architecture.
In the media: Gulf News, National News, Construction Week, Business Traveller