WHY INVEST IN BUSINESS BAY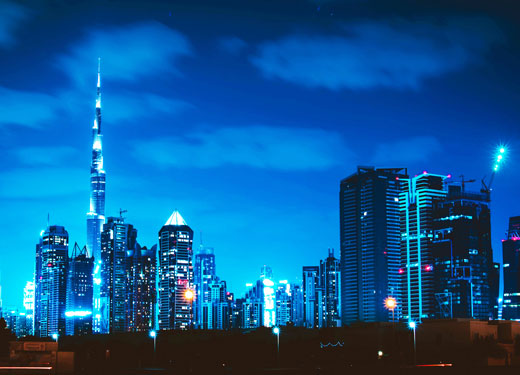 One of the world's 'coolest neighbourhoods', Business Bay presents a prime hotel investment opportunity thanks to its central location and unique amenities
OVERVIEW: Business Bay has literally risen from the shadow of neighbouring Downtown Dubai to become one of the city's most-popular precincts, thanks to its prominent canal-side location, great transportation links and modern business and leisure facilities.
Business Bay's international stature has grown thanks to plaudits from the likes of global travel publisher Lonely Planet, which ranked the precinct fifth among the world's top 10 "coolest neighbourhoods to visit", placing it among long-time favourites including New York City's Sunset Park, Rio's Botafogo and Seoul's Seongsu-dong.
"Bordered by glitzy Downtown Dubai to the north and intersected by Dubai Canal, there's a 12km-long promenade for strolling, while ferries cruise south to Dubai Marina and north to the Al Fahidi Historic District," Lonely Planet noted in its review of the district.
"Things will only improve over the next few years as parks, playgrounds, marinas, hotels, cafés and boutiques pop up along the canal. Away from the water, Bay Avenue is the community's buzzing heart with casual restaurants, a pleasant park and weekly farmers' market during the cooler winter months."
NEARBY ATTRACTIONS: Business Bay has fast become a popular favourite among international visitors to the city thanks to its central location close to Dubai's major business hubs and leisure attractions.
Dubai International Airport is just a short 10-minute drive away, while Downtown Dubai, which is home to Burj Khalifa and the Dubai Mall, can be reached in even less time. District 2020, which will play host to this year's Expo 2020 Dubai, is around a 25-minute drive by car, as is Dubai's second airport, Al Maktoum International.
INVEST IN BUSINESS BAY WITH THE FIRST GROUP
The First Group currently has three hotel properties under development in Business Bay, two of which (Millennium Place Business Bay and Dolphin Tower) are on track to open this year. All three present remarkable opportunities for savvy hotel investors to gain a foothold in this exciting and fast-growing area of Dubai.
The One Hotel at Business Bay (operating as Millennium Place Business Bay): This spectacular 492-room, four-star hotel currently under development will be managed by TFG's respected international operating partner, Millennium & Copthorne. Millennium Place is a contemporary lifestyle hotel concept targeting modern travellers who demand affordable, yet high-quality upscale accommodation. The hotel, which overlooks Dubai Canal, will boast premium business and leisure facilities.
Sky Bay Hotel Business Bay (operating as Ramada Plaza Business Bay): Sky Bay will set new standards for quality and affordability in Dubai's booming upper mid-scale hotel market. The stylish 440-suite hotel will boast a range of high-quality amenities, including signature F&B outlets, an innovative NEST co-working space, fully-equipped spa, gym and yoga facilities, steam rooms and outdoor swimming pool with sundeck. It will operate under the world-renowned Ramada Plaza brand.
Dolphin Tower at Business Bay: With stunning views of Dubai Canal, this impressive 330-room, four-star hotel will boast a range of premium guest amenities sure to appeal to business and leisure travellers. Managed by TFG partner Wyndham Hotel Group – the world's largest hotel management firm – and situated in the heart of Business Bay, Dolphin Tower is ideally positioned to generate strong investment returns. 
HOT PROPERTY: Business Bay was Dubai's most popular location for property investors by some margin in 2019. According to recently issued data from Dubai Land Department (DLD), the precinct accounted for 3,146 sales transactions last year, beating neighbour Downtown Dubai (2,816 transactions) to the top spot. Property transactions rose 20% overall in Dubai in 2019, marking the sector's best year in terms of sales for more than a decade.
Source: Dubai Land Department (DLD) data, Jan 2020
NEED TO KNOW
LOCATION: Adjacent to Downtown Dubai and Dubai Canal
TOTAL AREA: 4,360,000 sq metres
PRECINCT BREAKDOWN: Commercial 18.5%; Mixed-use 59.4%; Residential 22.1%
PLANNED BUILDINGS: 230 towers
PROJECTED POPULATION: 300,000
TRANSPORT CONNECTIONS: Dubai Metro Red Line. Al Khail Road (10 minutes' drive from Dubai International Airport).
2 minutes to Dubai Canal
5 minutes from Downtown Dubai and Dubai International Financial Centre (DIFC)
10 minutes' drive from Dubai International Airport