Why the time is right to invest in Dubai's hotel sector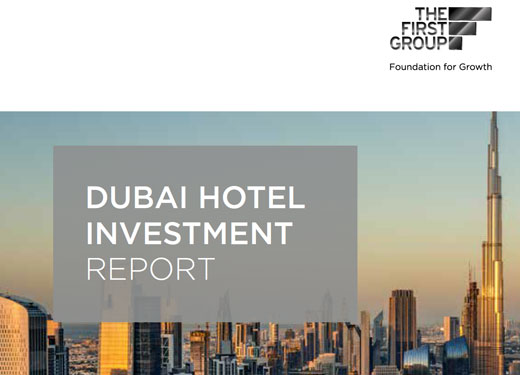 Dubai's hotel investment sector continues to move from strength to strength, as highlighted in the latest edition of The First Group's exclusive Hotel Investment Report
Dubai's real estate assets have delivered a remarkable 120 percent return on investment in the 10 years since the global financial crisis, according to the latest data issued by Reidin/Global Capital Partners.
By comparison, property investment markets such as London and New York have delivered returns of 75 percent and 63 percent respectively.
This is just one of the exclusive insights revealed in the latest edition of the Dubai Hotel Investment Report, published by The First Group and available for free to prospective investors.
The report, which has been published since 2014 and updated annually to include the latest market trends and data, provides investors with a valuable guide to investing in Dubai's thriving real estate sector, which ranks among the world's fastest growing.
In 2017, Dubai recorded 69,000 property transactions worth $77.6 billion in total, marking one of the sector's most successful years in terms of activity.
As revealed in the report, Downtown Dubai ($2bn-worth of transactions) was the most popular district in terms of investment, followed by Business Bay ($1.93bn) and Dubai Marina ($1.9bn).
The First Group, which is recognised as one of Dubai's most respected developers, currently has multiple projects underway in Business Bay and Dubai Marina.
In the former precinct, the firm has the 476-key The One Hotel, which will operate as Millennium Place Business Bay, and Sky Bay Hotel, which will operate as Ramada Plaza Business Bay.
Meanwhile, in the Marina district, the firm is developing the landmark Millennium Place Dubai Marina, which will complement its existing property in the area, Wyndham Dubai Marina.
In addition to these new developments, The First Group's rapidly growing portfolio consists of properties in fast-growing areas of the city, from Jumeirah Village Circle and Jumeirah Village Triangle, to Barsha Heights.
Each development is strategically located in key locations popular with leisure and business visitors to Dubai, close to major transportation links and the city's many attractions. This ensures investors in each property are assured of strong and consistent returns on their investments.
Indeed, as The First Group's Hotel Investment Report highlights, almost 15.8 million people visited Dubai in 2017, with this figure set to rise to 26 million by 2025, the same year the emirate will surpass London as the world's third-most visited city.
Dubai's authorities have set the goal of attracting 20 million visitors in 2020, the year it hosts the region's first World Expo.
All of this spells good news for the city's hotel sector. Dubai recorded 29.21 million occupied room nights in 2017, up from 28 million in 2016. This equated to an average occupancy rate of 78% across all market categories.
This stellar performance also coincided with an increase in total hotel room supply from 102,845 in 2016 to 107,431 in 2017, demonstrating the strong demand for hotel accommodation in Dubai.
The First Group's portfolio performance remains consistently higher than this average, highlighting the popularity and market competitiveness of each property.
To discover more about the amazing investment opportunities available in Dubai's booming real estate sector, download a free copy of The First Group's Hotel Investment Report today.