Why buy property in Dubai?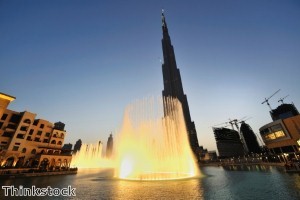 Dubai is becoming increasingly popular among local and foreign property investors, even in times of political and economical instability, due to its safe haven status. The level of market consistency it offers owners of real estate is unparalleled, so it could be the perfect place for your next investment.
According to Matthew Green, head of research and consultancy for the UAE at CBRE Middle East, the residential property market in the emirate has shown signs of stabilisation during the last six months across sales and the leasing sector.
He added: "The demand for mid to low-end residential offerings is expected to remain strong in the short term because of limited supply and high demand. Much of this demand is being generated by solid growth in the services sector, particularly from the retail and hospitality industries."
The outlook for commercial property is also strong, according to Mr Green, with office real estate enjoying a boost last year, which is expected to continue in 2015 as Dubai's position as the headquarter city of choice for global corporations in the Middle East strengthens further.  
Furthermore, Dubai's property sector is set to emerge as a more mature market in 2015, with demand now originating from end users and long-term investors. Demand will continue to be healthy, due to current trends in population and the growth in the tourism industry, as there are plenty of occupiers ready and waiting.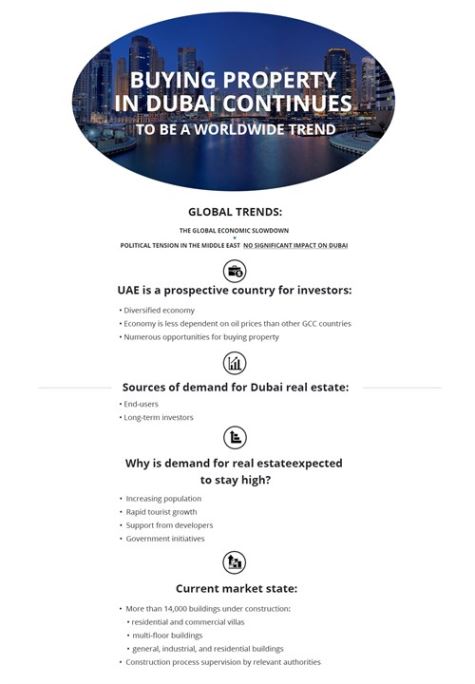 The economy
Mr Plumb believes the global economic slowdown and political tension that exists in some countries in the Middle East will not significantly impact Dubai. He added: "Economic growth prospects for the UAE have been revised upwards."
According to the 2015 Global Investor Sentiment survey from property Advisors Colliers International, 78 per cent of investors in the Europe, the Middle East and Africa (EMEA) region intend to add to their real estate portfolios in the area during the next 12 months.
In a statement, the firm said investor confidence had improved due to low interest rates, with two-thirds of investors planning on taking more risks in the future to achieve bigger returns, indicating that Dubai's property could get hotter in 2015.
Carla Slim, associate economist at Standard Chartered Bank, explained that the key drivers of Dubai's economy will be tourism, trade and transport, as the emirate is benefiting significantly due to its geographical position in the Middle East and GCC.
Investor demand
As mentioned early, demand has shifted to end users and long-term investors, which has allowed Dubai's property market to mature. Buyers and investors receive significant support from developers and the government, with several initiatives being launched to increase market transparency and ensure the profitability of investments.
This support has boosted investor interest, leading to demand for high-quality property in areas with developed infrastructure rising rapidly, and this trend is expected to continue, according to a report from commercial real estate company CBRE.
Both the commercial and retail property markets enjoyed a buoyant year in 2014, with lease rates surging in primary and secondary locations for the former and occupancy rates hitting 95 per cent for the latter.
Infrastructure
As the World Expo 2020 draws closer, Dubai continues to strengthen its infrastructure in several sectors. Dubai International Airport is currently undergoing a refurbishment to increase the number of passengers it can handle, meaning it should easily be able to accommodate the 25 million visitors expected to flock to the emirate during the Expo's six-month run.
A theme park complex is currently under construction in the emirate, offering tourists three different concepts to choose from: Bollywood, Hollywood and Legoland. This means there will be something for everyone to enjoy.
Furthermore, plans are in place to build the globe's largest retail outlet - the Mall of the World - which is so big, it is almost like an indoor city. Once completed, it will have waterfalls, galleons, a retractable domed roof and will be climate-controlled.
When revealing the plans, Sheikh Mohammed bin Rashid al Maktoum said: "We plan to transform Dubai into a cultural, tourist and economic hub for the two billion people living in the region around us. And we are determined to achieve our vision."
Posted by Bob Brunskill