Top 4 things to consider when investing abroad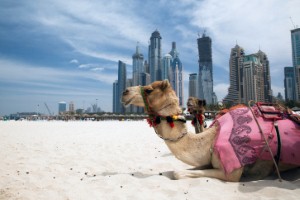 Investing in property overseas is a great way to diversify a real estate portfolio and capitalise on the growth other countries are experiencing. It also adds an element of protection to assets, as a portfolio containing both foreign and domestic stock does not wholly rely on the stability of just one market.
The level of risk attached to real estate investments is relatively low, as both individuals and businesses need space to live and work in and this can't be produced overnight, which means demand often remains stable. This is why property is seen as a sound investment, as well as the fact that healthy returns can be enjoyed despite the low level of risk.
So, if you're looking to invest your hard-earned money into property overseas, here are the top four things you should consider.
Choose the right country
You may have money to burn in your pocket, but you need to make a wise decision when settling upon where in the world you want to invest in, meaning research is key.
Clare Nessling, operations director at Conti, the international mortgage broker, told the Financial Times: "Buying a property abroad is an exciting prospect, but one important rule applies - don't let your heart rule your head. The principles you would stick to in the UK also apply when buying overseas."
Look for somewhere that is currently enjoying growth and is set to continue to prosper, such as Dubai. Despite its economy not being based on oil, the emirate is now one of the fastest-growing cities in the world, with its expansion being largely driven by real estate and tourism. 
Look to the future
Your chosen country should have a lot going for it, including a proven track record of healthy growth, and there should be solid plans in place to capitalise on this in the future. Although it is impossible to predict what is going to happen in years to come, you can get an understanding of how your property will perform if you look into the works planned for the country or area.
Any projects that will strengthen the infrastructure are likely to make your real estate more valuable. The myriad of work that will be carried out in Dubai in the run-up to the World Expo 2020 will make it more desirable to businesses, expats, residents and tourists, making real estate more desirable.
For example, thanks to expansion work, the emirate is home to the world's busiest international airport, Dubai International Airport, and Al Maktoum International is one day expected to be the biggest on the planet - good news for investors, as this will lead to more people coming into Dubai than ever before.
Know your market
Once you've decided where in the world you want to invest your money, you now need to determine which type of property you want to purchase. Commercial or residential? Buy-to-let or will you live in it? House or apartment? Hotel or offices?
After you've made your selection, you'll need to do some background research into the market, as you want to be armed with as much knowledge as possible before you hand over any money. Look at areas that are performing particularly well compared to others, as this will likely lead to the biggest returns.
For instance, the tourism sector in Dubai is booming, attracting 13.2 million guests to its hotels during the course of 2014, up 8.2 per cent compared to 2013. This figure is set to rise significantly as the Department of Tourism and Commerce Marketing ramps up its efforts to draw 20 million visitors to the emirate every year by 2020.
Local benefits
There will be pros and cons no matter where in the world you choose to purchase property, and you will need to weigh these up before you decide to part with your hard-earned cash. You should find out what kind of perks there are for property owners, as well as any common pitfalls you may experience.
In Dubai, hotels are maintenance-free for investors as the operator takes care of everything, meaning all that's left for you to do is enjoy healthy profits. But it's not just commercial property owners that can reap the rewards of buying real estate in the emirate, as Dubai is tax-free, massively benefitting those that live and work in the region.
The United Arab Emirates has anchored its domestic currency in the US, attaching the dirham to the dollar. This means that the value of the dirham doesn't change depending on what happens within the emirate, but instead is 'pegged on', meaning linked to, what happens in the US.
The link has the benefit of giving the dirham the strength and stability of tracking the world's de facto currency, which is particularly advantageous as the dollar against other currencies, such as the euro and the yen, making imports cheaper.
In reference to this relationship Monica Malik, the chief economist at Abu Dhabi Commercial Bank, told the National: "The peg to the dollar supports currency stability."
Ready to get started?
For more information on Hotel Investment opportunities in Dubai, please visit www.thefirstgroup.com. For immediate assistance, contact our Hotel Investment Hotline on +971 (0)4 246 4825.