TECHNOLOGY AND THE FUTURE OF SUPER STRUCTURES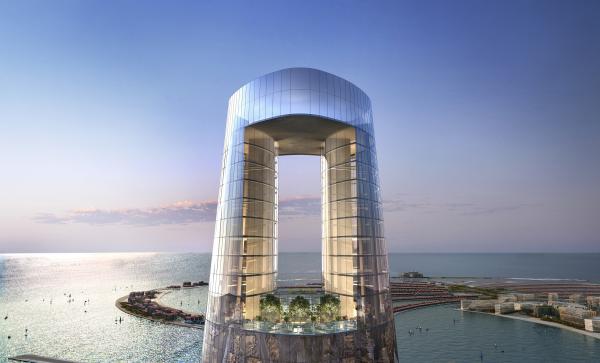 Digital technology is becoming increasingly significant in the design and delivery of landmark developments in Dubai and across the UAE...
Digitalization has become a major priority among forward-thinking organizations in the construction sector. This is because the advances in digital technology and AI have made it easier to streamline operational processes, reduce costs and maintain a competitive edge in what's becoming an increasingly challenging environment.

One project that is pushing boundaries digitally is The First Group's Ciel, which at a height of 365 meters, is set to become the world's tallest hotel on completion. Digital technology is integral to Ciel's construction, from the initial design to every phase of development.
"Today, the design of complex buildings – especially super structures – requires engineering firms to embrace the latest technological and data modelling tools," says Yahya Jan, Design Director at NORR, the architectural firm behind Ciel. "Computer aided design software was used during the development of Ciel's conceptual phases, helping simplify and speed up hugely complex tasks."

The design team also used software for renders and 3D visualization tasks, while more common software packages (including Photoshop, PowerPoint and Adobe InDesign) were employed for presentations, graphic editing and animation.

Jan believes that the biggest challenge is how the technology is integrated to streamline each phase of the construction process. "Many stages of Ciel's construction require the use of integrated technology to overcome complex construction issues. For example, the shaping of Ciel's tower was heavily influenced by wind tunnel and computational fluid dynamic modeling to minimize wind loads on the tower and its foundation," says Jan.
"Digital technology is transforming the delivery of complex engineering projects such as Ciel, the world's tallest hotel currently under construction."

As a result of these challenges, Ciel's development team is utilizing collaborative technologies to aid workflows, including Oracle's Aconex cloud-based platform.
"The Aconex platform has enabled each party to create and modify documents, drawings and other vital data in real time both onsite and remotely. It has made it easier to track and control processes, from Ciel's iconic design to its completion," says Amr al-Bawab, Chief Construction Officer at The First Group.

"Although we don't set 'tech targets', we pride ourselves on working with partners who are open to adopting new techniques to overcome complex challenges."
Rob Burns, CEO of The First Group, agrees: "Developers in the UAE have a key role to play in promoting the use of digital technologies in design and construction. The rapid rise of technology also means that we need to continuously invest in training professionals who understand how technology benefits the entire construction process."

VIEW CIEL