Mall mania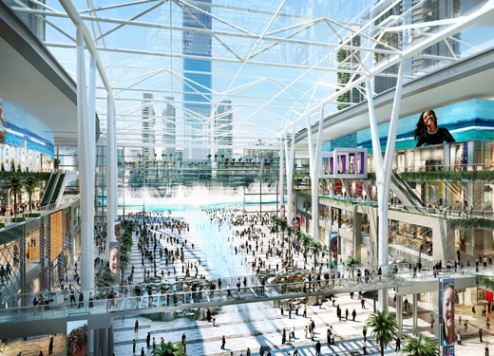 Seven new mega shopping and entertainment complexes are scheduled to open in Dubai before the end of the decade. Here's a round-up of the retail havens under development and their groundbreaking attractions
Al Khail Mall Set to open in mid-2018, Al Khail Avenue will be located in Jumeirah Village Triangle (JVT), home to the upcoming Millennium Place JVT Dubai, which is being developed by The First Group and is due for completion the following year (2019). The mall is described by developer Nakheel as a "bustling retail and entertainment destination" that's well placed to serve the fast-growing communities of Jumeirah Village and Jumeirah Park. The mall will span almost two million square feet with anchor stores including a Waitrose supermarket. There will be 350 retail outlets in total, as well as a multi-screen Reel Cinema complex with 1,500 seats across 14 theatres. It will also feature several dining outlets and a 256-room hotel, which will be connected to the shopping complex.
Avenues Mall The Avenues Mall, which will be located in Dubai Silicon Oasis, will feature 80,000 square metres of retail space. Major retailers will include Lulu Hypermarket and a yet-to-be-named department store, complemented by 13 food and beverage outlets and 25 more food court kiosks. Scheduled for completion in 2020, the mall has the retail potential of almost AED16 million (US$4.36 million) according to development company, the Lulu Group. This figure is envisaged to double to nearly AED32 million ($8.71 million) by 2025, representing a significant boost to the local economy. The mall's catchment area is estimated to include roughly two million people. 
Deira Mall Deira Mall is the focal point of the new Deira Islands development – the offshore waterfront city that is due for completion early next year. The 950,000-square-metre mega mall will feature more than 1,000 stores, cafés, restaurants and entertainment venues across three floors. Deira Mall will also be unique for its one-kilometre-long retractable roof, which will flood the complex with natural light and transform it into an open-air shopping destination in the cooler winter months.
Mall of the World As the name suggests, Mall of the World is on track to become one of the planet's largest retail and leisure destinations. Originally planned as the centrepiece of Mohammed Bin Rashid City, developer Dubai Holding announced last year that it was relocating the super mall to prime real estate on Sheikh Mohammed Bin Zayed Road. Mall of the World is being built at a cost of AED25 billion ($6.8 billion) and if the original project masterplan is realised it will feature eight-million-square-feet of shopping space connected to a theme park. Around 100 hotels were also part of the master plan. The first phase of Mall of the World is due to be complete in time for Expo 2020 Dubai.
Meydan One Ground broke on this 40-million-square-metre mega project in March this year, with the entire development on schedule to open within three years. In addition to the 600 retail stores planned, there will be a 400-metre-long 'canyon' dedicated to high-end luxury brands. Meydan One will also set a new record by featuring the world's largest retractable skylight, which will cover some 16,000 square metres. Other highlights will include a 380-metre-long dancing fountain, a one-kilometre-long indoor ski slope, a hypermarket, 100 F&B outlets, a 21-screen cinema complex and a 258,000-square-foot indoor multi-purpose sports facility as well as outdoor pitches, trails, and a skateboarding and BMX park. Meydan One will also boast a 4km-long canal, a marina, cycling and jogging trails, a 9km-long boardwalk and a 300-metre long man-made beach. It's being pitched as one of Dubai's most significant upcoming tourism destinations.
The Circle Mall The Circle Mall is being developed within the heart of Jumeirah Village Circle (JVC), home to another new hotel being developed by The First Group, Ramada Plaza JVC Dubai. Due to open next year, the mall will feature 400,000-square-feet of shopping, dining and entertainment space. It will house at least 200 shops, a large supermarket, two department stores, a multi-screen cinema complex as well as dining outlets and a food court. It will serve the residents of JVC and the surrounding neighbourhoods. 
The Pointe The Pointe is the latest addition to the Palm Jumeirah and will be located just across the bay from Atlantis, The Palm, the iconic pink mega resort. This new retail and entertainment complex will feature fountain shows, a 1.5-km promenade and around 150 restaurants and retail outlets. Developer Nakheel has also revealed plans to open a five-screen luxury dining movie theatre in collaboration with Reel Cinemas. The Pointe will be accessible via the Palm Monorail, which is connected to the Dubai Tram and Dubai Metro, as well as by boat from Palm Jumeirah's growing number of resorts.