LEGO model of Dubai's Burj Khalifa is a record breaker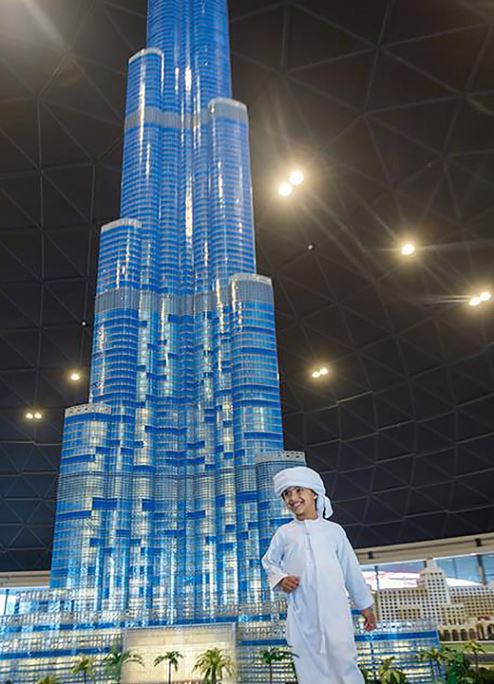 A LEGO model of Dubai's tallest building, the Burj Khalifa, has been unveiled at LEGOLAND Dubai and it's broken a new record – it's the world's tallest LEGO building structure.
Standing at 17 metres tall, which is a record-breaker for a model of a building, the Burj Khalifa LEGO replica is located in the new theme park's MINILAND area.
LEGOLAND Dubai invited five-year-old Emirati boy Mohammed bin Ahmed Jaber Al Harbi to put the finishing touches to the iconic masterpiece by adding a tiny replica of himself to the model and turning on the first of the structure's LED lights.
LEGOLAND Dubai forms part of Dubai Parks and Resorts, the region's largest integrated theme park destination. The Burj Khalifa in MINILAND includes a creative LED light show, as well as a recreation of the real building's world-famous fountain show.
Located within the heart of LEGOLAND Dubai, the Burj Khalifa model was designed and built in more than 5,000 hours using 439,000 LEGO bricks, and it weighs one tonne. 
"It was our pleasure to welcome Mohammed bin Ahmed Jaber Al Harbi to help us celebrate this momentous milestone," commented Siegfried Boerst, general manager of LEGOLAND Dubai.
"Burj Khalifa, now the tallest LEGO building model in the world, is just one of the incredible attractions MINILAND and LEGOLAND Dubai have to offer for families."
LEGOLAND Dubai is designed for families with children aged 2-12 and will feature more than 40 interactive rides, shows and attractions and 15,000 LEGO model structures made from more than 60 million LEGO bricks. 
LEGOLAND Dubai features six themed lands – LEGO CITY, ADVENTURE, KINGDOMS, IMAGINATION, FACTORY and MINILAND – each unique in their design, entertainment and playful learning experience.