Dubai tourism boom to drive hotel investments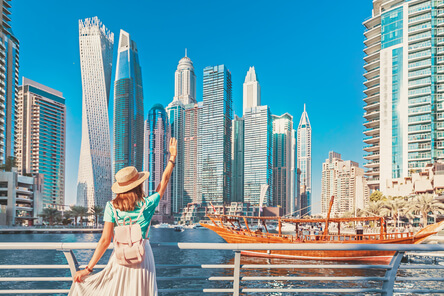 Why the rapid rise in tourism expenditure in Dubai spells good news for hotel investors
Hotel investments in Dubai are expected to rise by nearly one-third this year, driven by the city's growing popularity as a tourism destination.
As the world's fourth most-popular destination, Dubai is playing a fundamental role in spearheading the growth of the UAE's tourism industry.
UAE tourism authorities recently revealed that total revenues generated by the sector exceeded US$5 billion in the first half of 2022, up from US$3 billion during the same period in 2021.
The stellar performance came on the back of a significant 42% year-on-year rise in visitor arrivals, with the total number reaching 12 million across the Emirates.
It also followed a relatively strong showing in 2021, despite the lingering impact of the pandemic. According to the World Travel & Tourism Council's (WTTC) Global Trends 2022 report, travel and tourism in the UAE recovered by 41.1% in 2021, supported by a 48.8% increase in revenues from international visitors.
The re-scheduled Expo 2020, and international cricket events such as the Indian Premier League and the ICC T20 Cricket World Cup – all of which were staged in Dubai – helped boost the number of inbound arrivals from 11.3 million in 2020 to 12.9 million in 2021.
At a recent UAE Federal Cabinet meeting staged in Abu Dhabi, HH Sheikh Mohammed bin Rashid Al Maktoum, Vice President and Prime Minister of the UAE and Ruler of Dubai, noted that the major increase in tourism expenditure reflected an overall rise in the UAE's economic fortunes in the post-pandemic environment.
"Our tourism sector's revenues surpassed US$5 billion in the first half of 2022… The total number of [arrivals] reached 12 million, achieving 42% growth, and we expect a strong tourism performance in this winter season.
"The UAE's foreign trade exceeded one trillion dirhams, compared to 840 billion dirhams pre- pandemic… and this year's economic growth exceeded 22%. [year-on-year to date]"
HH Sheikh Mohammed also noted that tourism's total contribution to the national economy increased by 12% during the first half of 2022.
Dubai's tourism and hospitality sectors have played a vital role in driving the UAE's economic recovery from the Covid-19 pandemic, and the growth of the city's hotel sector continues unabated.
In 2002, Dubai was home to just 272 hotels and 23,170 guestrooms. Today, its guestroom inventory stands at 141,000 across 774 hotels – a remarkable figure that places Dubai among the world's top hotel markets.
The continuing expansion of Dubai's tourism sector spells good news for international hotel investors, who are eagerly eyeing new opportunities to capitalise on the city's unrelenting growth.
Ciel, which is currently being developed by The First Group in Dubai Marina and will become the world's tallest hotel upon completion, represents one of the finest investment opportunities available in the city to date.
When completed, Ciel will house more than 1,000 guestrooms and suites, as well as premium guest amenities and facilities, such as the Ciel Observatory & Lounge on its 81st floor and a signature rooftop Sky Terrace featuring a stunning infinity pool and bar affording sweeping panoramic views of Dubai's world-famous skyline, the Palm Jumeirah and Arabian Gulf.
Other standout features will include a range of specialty F&B outlets, a luxury spa and health club located on the 61st floor, a Sunset Lounge on the 74th floor and Horizon Bar on the 76th floor.
To learn more about investing in Ceil as well The First Group's rapidly expanding portfolio of hotel developments, click here.
To download a complimentary of The First Group's exclusive Dubai Hotel Investment Report, click here.