Dubai house prices 'exceeding peaks of 2008'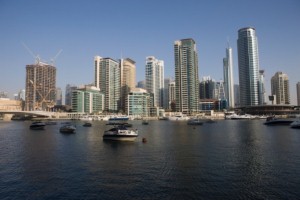 Some areas of Dubai are experiencing house prices which are higher than the peaks achieved in 2008.
A study by property consultancy JLL stated the emirate's real estate market recorded a 33 per cent year-on-year rise during the first quarter of 2014. The average rental cost also increased by 23 per cent. 
This is following news from the Dubai Land Department, which announced the total value of transactions in the property market jumped from AED 154 billion (£25 billion) in 2012 to AED 236 billion last year. The emirate's economy is also expected to grow, with the Department of Economic Development estimating the gross domestic product to rise by 4.7 per cent in 2014.
Meanwhile, JLL stated house prices were expected to continue growing over the coming year, albeit at a much slower pace. The report also stated the rise in prices could see people relocate to more affordable areas across Dubai.
In terms of rented accommodation, Sports City recorded the biggest surge in prices, as rates increased by 41 per cent. International City and Discovery Gardens also saw charges grow by 35 per cent and 33 per cent respectively. The prime location of Downtown Dubai experienced rises of 24 per cent, while Dubai Marina witnessed a jump of 21 per cent. 
According to the study, the emirate is set to witness an increase in the number of residential units over the coming year. Around 1,800 buildings, mostly apartments, were completed during the first quarter of 2014. A further 24,000 houses are expected to be delivered over the next 12 months, while another 39,000 habitations will be supplied over the subsequent two years. 
Despite this increase of supply, the report warned there was still a shortage of middle-income housing in the Dubai area. It predicted demand for such property to increase dramatically over the next few years. 
JLL stated the emirate's property market would continue to see tighter regulations against the culture of speculation, as authorities attempt to stave off another housing bubble. The report claimed efforts would strengthen over the coming year as comparisons have started to be drawn between 2014 and activity recorded in 2008.