Dubai foreign trade grew to AED 1.3tn last year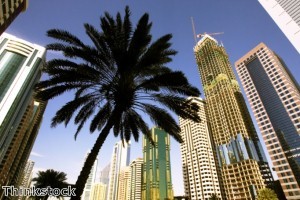 Foreign trade in Dubai grew to AED 1.3 trillion (£212 billion) during 2013. 
Statistics showed this was a year-on-year rise of AED 94 billion. Analysts stated this was mainly due to the strong performance of the non-oil trade sector.
The figures were hailed by Crown Prince Sheikh Hamdan bin Mohammed bin Rashid Al Maktoum as a testament to the leadership of Sheikh Mohammed bin Rashid Al Maktoum, vice-president and prime minister of UAE. He also added the municipality government was committed to carrying on this high standard and called on executives to exhaust all avenues in the search for new innovations that would sustain growth levels.
Last year, tourism in the emirate rose by ten per cent, compared to 2012. Some 11 million holidaymakers occupied Dubai's hotel rooms during this period, while the international airport recorded passenger numbers increased by 15.2 per cent to 66.4 million people. 
Additionally, the number of real estate transactions grew by 53 per cent, to reach a total exceeding AED 236 billion. The freight industry also achieved strong results, as cargo volume reached 13.6 million TEU (twenty-foot equivalent unit - referencing the length of a standard shipping container). 
Officials claimed the figures highlight the emirate's position as a dominant force in the global economy and said the decision to award Expo 2020 to the area further demonstrates how highly it is thought of on the world stage. Furthermore, they believed hosting the event would make the location a regional leader and major international competitor.
Ahmed Butti Ahmed, executive chairman of Ports, Customs and Free Zone Corporation, stated: "We are set to develop and implement a creative work strategy that is able to keep pace with a stage where Dubai embarks on a more prominent role in the global economy by means of developing its ability to efficiently link with regional and international markets."
He added the area saw imports reach AED 811 billion during 2013, an increase of AED 74 billion compared to the year before. Meanwhile, exports rose by AED 20 billion to achieve a total of AED 518 billion.