A guide to Dubai hotel investment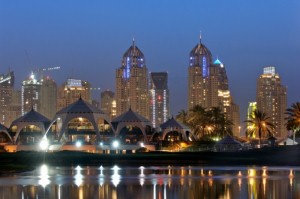 The tourism industry in Dubai is booming, with experts predicting that combined with aviation, it will contribute $53.1 billion (£33.9 billion) into the economy by 2020, rising to $88.1 billion by 2030. This means hotel developments are a lucrative investment as there will be no shortage of people looking for accommodation.
This type of venture is becoming increasingly popular among both local and international parties, driven by boosted confidence in the market and the perception that Dubai hotel investments could provide significant profits.
In recent years, the emirate's real estate market has grown quickly, with new hotel developments appearing every month because of the demand from the tourism industry and has been recognised by many organisations for its success.
For example, last year Dubai was named the best place for hotel investment by Ernst & Young's (EY) Middle East Hotel Benchmark Survey, with beachfront hotels providing the highest occupancy and average rates per room in the Middle East.
Here are just a few reasons why hotel investment in the emirate could be potentially lucrative for anyone looking to dip their toe in the property market.
Stimulating growth
Last year, the ruler of Dubai, Sheikh Mohammed bin Rashid Al Maktoum, issued a series of directives aimed to stimulate growth and develop hotel investment in the emirate. The new rules were designed to reduce red tape for businesses and dramatically cut short-approval time.
Under the regulations, the hotel construction pre-approval process period was dropped from three to six months to two months and a one-stop-shop for approvals was launched to ensure the new timeframes were met.
In addition, land owned by the government will be allocated for the construction of new three and four star hotels, with the municipality working with master developers and the Department of Tourism and Commerce Marketing (DTCM) to identify key locations for new builds.
The new directives were created in response to recommendations raised by private sector developers to prepare Dubai to welcome the influx of visitors linked to the World Expo and to help the emirate reach its target of attracting 20 million tourists every year by 2020.
Hussain Lootah, director-general of Dubai Municipality, said: "Our aim is to continue Dubai's journey, to further progress from our position as the region's leading tourism and business destination to being recognised as a global leader in trade and tourism."
Comments made by Helal Saeed Almarri, director-general of the DTCM, echoed Mr Lootah's remarks. He added: "Sheikh Mohammed's directives offer new and exciting opportunities for hotel investors. They will act as a stimulus to the sector and help to broaden our current accommodation offering, particularly within the three and four star segment, which is needed to meet the targets outlined in the Dubai Tourism Vision for 2020."
Global investors
Investors from all corners of the globe are standing up and taking notice of what Dubai has to offer, particularly its hotel developments, with interested parties from the UK, India and Russia falling for Dubai's charms.
The emirate is a lucrative and promising paradise for foreign investors because its prime properties appear to be bargains in international terms, with London being six times more expensive and Hong Kong even more pricey. This means that hotel investments in Dubai bring healthy profits, compared to elsewhere in the world.  
Dubai's fast development has caused a stir in the global marketplace, while its modern infrastructure and growing reputation as a world-class tourist destination work together to pique the interest of investors from across the world.
Local investors
Emiratis are just as keen as their international counterparts when it comes to investing in Dubai's hotel market, with property now being a more popular investment than gold among residents of the UAE.
That's according to a survey from IP Global and YouGov, which also notes that real estate makes up 53 per cent of the investment portfolio of residents, compared to 43 per cent who hold gold - traditional seen as a safe-haven asset.
In a statement, Paul Preston, director and head of IP Global in the Middle East, commented: "More and more people are starting to see property investment as one of the highest-performing asset classes within their investment portfolios.
"There is definitely an increasing confidence in the Dubai property market, although with property prices already starting to cool and Dubai typically being more cyclical than other global markets, we're seeing sustained interest in overseas property markets from investors."
Posted by Neil King