There's Never Been a Better Time to Invest in Dubai Hotels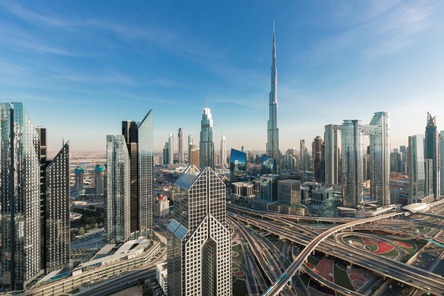 Long recognised as one of the world's most exciting markets for savvy investors, Dubai's hotel sector is set to step up another gear in the coming years, as the city's authorities pump billions of dollars into establishing the city as the world's most popular international destination and a model for sustainable development.
2019 success a sign of things to come
Prior to Covid-19, Dubai was well established as the world's fourth most-popular tourism destination. In 2019, the city welcomed a record 16.73 million international visitors, up 5.1 percent compared to 2018.[1]
The impressive result ranked the city among the world's fastest-growing tourism destinations, with the growth in visitor numbers outstripping the United Nations World Tourism Organisation's (UNWTO) global growth average of 3-4 percent.
Dubai's reputation as one of the world's premier holiday destinations was highlighted by the fact that 75 percent of all visitors (12.54 million) to the city in 2019 were leisure travellers, while families with children accounted for 39 percent of the overall total, up from 36 percent in 2018.[2]
The boost in visitor arrivals proved a boon for Dubai's hoteliers, with the total number of occupied room nights reported across the city exceeding 32 million for the first time, marking a 6.5 percent improvement on the 30.13 million occupied room nights recorded in 2018. The city's average daily rate and revenue per available room (RevPAR) stood at a commendable AED 415 (US$113) and AED 312 (US$85), respectively.[3]
Dubai also retained its position as the world's most valuable tourism destination in terms of visitor spend in 2019, according to MasterCard's Global Cities Index[4]. The city topped the international ranking for the fourth year in a row, with total expenditure reaching US$32.1 billion in 2019, representing a 4.18 percent increase on 2018.
By way of comparison, the Holy City of Makkah, Saudi Arabia, which finished second in the ranking, reported international visitor spend of $20.09 billion, or 38 percent less than Dubai.
Rapid recovery forecast post Covid-19
In the immediate term, Dubai's hospitality and tourism sector is set to bounce back strongly in the wake of the Covid-19 pandemic, as the rollout of vaccines worldwide promises a return to normality for millions of international business and leisure travellers. Even during the pandemic, Dubai has remained mostly open for business, welcoming international travellers and keeping them safe by implementing strict health and safety protocols in all public spaces, transportation hubs, hotels and leisure facilities. The city's approach to Covid safety saw it awarded the 'Safe Travels' stamp of approval from the World Travel & Tourism Council, placing it among the few cities worldwide to be recognised by the peak industry body for its efforts to safeguard visitors.
Major events planned for 2021, headlined by the opening of Expo 2020 Dubai in October and the UAE's Golden Jubilee celebrations in December, are set to accelerate the city's post-Covid economic recovery. Expo 2020, in particular, is expected to attract millions of international travellers over its six-month duration, generating strong occupancy rates and delivering revenue windfalls for the city's hoteliers, and in turn, hotel investors.
Visitors will be wowed by the billions of dollars-worth of of new infrastructure that has been built in preparation for the Expo. From new transport services to hotels and visitor attractions, these investments will help Dubai consolidate its reputation as one of the world's most exciting destinations, helping drive visitor growth over the coming decade and beyond.
Looking ahead to 2040
Reflecting Dubai's ambition to establish itself as one of the world's greatest cities and a global hub for innovation, enterprise and commerce, the emirate's ruler and Vice President and Prime Minister of the UAE, His Highness Sheikh Mohammed bin Rashid Al Maktoum, recently launched the Dubai 2040 Urban Master Plan, a grand vision for sustainable urban development in the emirate.
Dubai 2040, which envisages the city's population rising from 3.3 million to 5.8 million over the next two decades, will deliver huge investments in sustainable development, creating nature reserves, parks and green corridors that together will ultimately account for 60 percent of the emirate's total geographic area.
In a huge boost for the city's tourism sector, the government plans to increase the total land area reserved for hotels and hospitality facilities by 134 percent compared to today, while waterfront space including public beaches will increase by up to 400 percent.
"Our strategic development plans are focused on creating the best possible environment and infrastructure to enhance the community's happiness and wellbeing and support the fulfilment of the greatest human aspirations for both our citizens and people from around the world," commented HH Sheikh Mohammed at the launch of the 2040 Master Plan.
"Drawing inspiration from global best practices and adapting them to local needs and requirements, we have created a development model that offers the best possible quality of life and creates the conditions for sustainable prosperity.
"By constantly striving to raise benchmarks and implementing diligent strategic planning, we have joined the ranks of the world's leaders in various spheres and sectors. With a clear vision and a deep understanding of what it takes to succeed in an evolving global environment, we continue to work to shape an even greater future rich with opportunities," HH Sheikh Mohammed added.
Conclusion
Despite the challenges posed by Covid-19 over the past 12 months, Dubai's hotel investment sector is ideally positioned for long-term growth, thanks to the city's inherent strengths, the collaborative spirit of its government and private sectors and its tourism industry's proven resilience.
The world's fourth most-visited city in 2019, Dubai is well established as a global hub for tourism, commerce and trade and is recognised as the region's business capital. From aviation to investment, tourism, commerce and trade, its reputation is aided by its geographic proximity to the world's biggest markets, situated within four hours' flying time of a regional population in excess of two billion.
Its diverse tourism offering – spanning stunning beachside resorts to desert adventures, cultural attractions, theme parks, mega malls and everything in-between – continues to captivate visitors from across the world.
The massive expansion plans outlined in the recently launched Dubai 2040 Master Plan will provide a massive boost to the city's standing as a global tourism destination. This will in turn benefit the growth of its hotel sector, providing new and exciting opportunities for investors to capitalise on its development.
References