2019 IN REVIEW (Pt.1)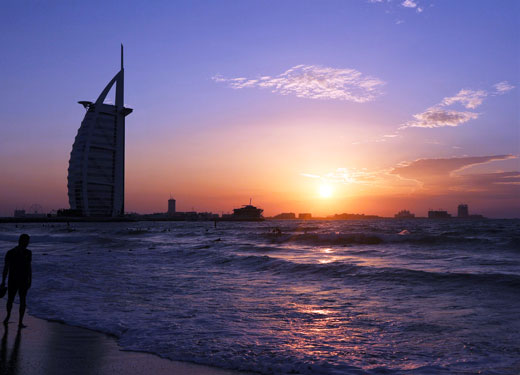 2019 marked another period of strong growth for Dubai's economy and the city's reputation as one of the world's leading destinations for business, tourism and investment. In the first of our two-part series, we look at the significant milestones that shaped the first half of the year
JANUARY
Dubai targets US-based property investors: The Dubai Land Department (DLD) reveals plans to target American property investors after receiving a delegation comprising more than 150 real estate agents and 11 investors from the US. The delegation spends a week in Dubai learning about what makes the city's property market so dynamic and discovers more about its world-class real estate regulations and the safeguards in place for foreign investors. The visit follows on from the DLD's role as a global strategic partner at the American 2018 REALTORS Conference & Expo (NAR) in Boston, USA.
Dubai's free zones generate $107bn in revenues in 2018: Government authorities reveal total trade volumes involving the city's free zones rose by 22% year-on-year in the first nine months of 2018. The data, issued by the Dubai Free Zones Council, reveals free zone trade reached $107 billion during the surveyed period, accounting for 41% of Dubai's total trade during this time. Dubai's free zones have long been a magnet for international investors including multinational businesses attracted by their tax-free status and 100% foreign ownership rights. According to Dubai Free Zones Council, the emirate's 24 free zones account for 31.9% of Dubai's GDP, with imports totalling $58.5 billion and exports and re-exports totalling $49 billion.
FEBRUARY
Dubai a magnet for start-up businesses: More than 2,200 new trade licences are issued to start-up companies in February, marking a year-on-year rise of 37%, according to data from Dubai's Department of Economic Development (DED).  Major industries to benefit from the influx of new business include the city's real estate, building, hospitality and construction sectors, the DED reveals. In positive news for the city's job market, more than 8,500 new employment vacancies are listed in February by these new businesses. Furthermore, the DED reveals it has processed 25,269 business registration and licensing transactions, marking a 27% increase on the number processed in February 2018.
MARCH
Dubai Property Festival returns for 2019: The Dubai Property Festival (DPF) makes its return for 2019, with more than 20,000 delegates attending the event. The DPF, which is staged by Dubai Land Department (DLD), showcases investment opportunities in Dubai's thriving real estate sector. This year's event attracts the involvement of senior real estate developers, major real estate companies in the UAE and abroad, financial institutions, and banks and investors, the DLD says in a statement.
Business events generate a record AED13.1bn for Dubai's economy: Dubai World Trade Centre reveals that business events staged in Dubai in 2018 contributed a record AED13.1bn (US$3.57bn) to the emirate's economy. The figure equates to 3.3% of the emirate's GDP in 2018. DWTC hosted a total of 97 large-scale exhibitions, trade events, conventions and conferences in 2018. According to the report, for every AED1 spent at events staged by DWTC, a further 4.4 times in sales value is generated for ancillary sectors and Dubai's wider economy.
APRIL
Expo's positive economic impact revealed: A new report published by EY reveals the overwhelmingly positive impact the staging of Expo 2020 is set to have on the UAE's economy. The EY report, entitled 'The economic impact of Expo 2020 Dubai', predicts the total gross value added (GVA) to the UAE economy as a result of the event's staging will be AED122.6 billion ($33.4 billion) for the period spanning 2013 to 2031. During this time, the event is also expected to support approximately 905,000 full-time jobs in the country. In more positive news for the ongoing growth of Dubai's small- to medium-enterprise (SME) sector, 75% of all contracts relating to Expo 2020 have been awarded to SMEs to date, equating to almost 20,000 registered suppliers from 150 countries.
Real estate activity boosts Dubai's GDP growth: Dubai's real estate sector expanded seven percent year-on-year in 2018 and accounted for 25% of overall GDP growth, according to new data issued by Dubai Statistics Centre (DSC). The data also shows that Dubai's economy expanded by 1.94% compared to 2017. Dubai's trade activities accounted for 18.1% of overall GDP growth in 2018, followed by real estate and transport and storage, with the latter sector contributing 13% of GDP growth. The accommodation and food services (Hotels and Restaurants) sector expanded by 4.5% in 2018 compared to 2017, driving overall economic growth by 11.5%. DSC data shows that hotel and hotel apartment reservations grew by 3.2% in 2018 compared to 2017.
International hoteliers see strong potential in Dubai: A new report from MEED Projects predicts Dubai will be a major beneficiary of the multi-billion-dollar hotel investments planned across the region over the next five years. Almost US$30 billion-worth of new hotel developments will enter the pipeline in the Middle East and North Africa between now and 2023, with the UAE and Dubai accounting for a significant number of projects. According to Ed James, director of Content and Analysis at MEED Projects: "More than 800 new hotels worth in excess of US$44 billion have been built over the past seven years in the Middle East and North Africa. Leading the way in this tourism drive has been the UAE, with more than US$20 billion worth of hotel construction contracts awarded since 2012. This total is more than double the amount awarded in the second-highest country, Saudi Arabia, which saw just over US$10 billion worth of hotel deals awarded in the same timeframe."
Infrastructure developments drive FDI in Dubai: The total value of foreign direct investment (FDI) in Dubai's economy reaches AED22.2 billion in the first quarter of 2019, with much of this figure going towards the development of vital infrastructure. The result marks a massive increase of 304% compared to the same period in 2018, according to data from the Dubai FDI Monitor of the Dubai Investment and Development Agency (Dubai FDI).
MAY
UAE grants permanent residence to wealthy investors: Dubai's status as one of the world's most popular investment destinations is further enhanced following the launch of a new UAE government scheme that rewards wealthy investors with permanent residency in the emirates. In launching the Golden Card system, UAE authorities initially grant 6,800 foreigners – who have invested a combined AED100 billion ($27 billion) in the emirates – permanent residency in the country. Meanwhile, a landmark 10-year visa programme, which is the first of its kind offered in the GCC, is made available to investors who have committed at least AED10 million to the country's economy, as well as entrepreneurs, highly-skilled workers and their families. Investors who have committed at least AED5 million to a property purchase can also apply for a five-year visa without requiring a sponsor. In a further boost for families, authorities confirm renewal fees for sponsored children will be just AED100 over the age of 18 or after they complete their secondary or tertiary education. 10-year residency visas cost just AED1,150 (US$313) per applicant.
Visa customers spend more in Dubai than ever before: New data published by Visa reveals visitor expenditure in Dubai, as well as the total volume of transactions involving credit cards issued by the firm, rose significantly in 2018. The company reveals visitor spending across the UAE using Visa credit cards rose 4% to AED22.8 billion ($6.21 billion) in 2018, while the total number of Visa transactions involving international visitors to the Emirates rose 22% year on year.In terms of source markets, Saudi Arabia topped the list of Visa card expenditure, followed by the US, UK, China, Russia, Kuwait, India, Oman, Bahrain and Australia.
Tourism sector continues to grow: Dubai welcomed 4.75 million international visitors in the first quarter of 2019, marking a year-on-year rise of two percent. The rise in visitor numbers helps push the city's average hotel occupancy rate to 84% in Q1, with total occupied room nights reaching 8.63 million, according to Dubai Tourism. India once again proves Dubai's top tourism source market during Q1 with 564,836 visitors, followed by Saudi Arabia with 411,586 visitors and the United Kingdom with 326,586. China retains its position as Dubai's fastest-growing source market outside the GCC with 291,662 visitors, marking a year-on-year rise of 13% and ranking fourth overall. Oman followed in fifth with 263,182 visitors. The Sultanate also ranks as the fastest-growing regional source market, up 27% compared to Q1, 2018.
Ciel, The First Group's biggest project to date, wins major industry awards: Ciel, The First Group's stunning hotel project under development in Dubai Marina – which will be the world's tallest hotel upon completion – is recognised in four major categories at the 2019 Dubai, Africa & Arabia Property Awards. The distinctive high-rise property is named among the winners in the Hotel Architecture; New Hotel Construction and Design; Commercial High-rise Development; and Residential High-rise Architecture award categories.
JUNE
Dubai named one of world's 'most influential cities': Dubai is named the world's 11th most influential city in The Future Brand Country Index 2019. The report, published by brand consultancy FutureBrand, also ranks the UAE as the most influential country in the Middle East and 16th most important worldwide. The report surveys 2,500 people from across the world who were asked to assess 75 countries based on their perceived quality of life, business environment, cultural output, social values, and appeal as a tourism destination.
Dubai property transactions up 41% YoY in Jan-May period: The total value of real estate transactions in Dubai reaches AED34 billion ($9.25 billion) in the first five months of 2019, marking a year-on-year rise of 41%, according to data published by Dubai Land Department (DLD). The DLD reveals that residential and commercial apartment sales accounted for 50% (AED17 billion) of the total, followed by land acquisitions (41% / AED14bn) and villa sales (8.8% / AED3bn). Existing properties and off-plan purchases were accounted for in all totals. The DLD attributes the significant growth in sales volumes to moves by the government to incentivise the market, including the decision to grant extended residency visas to investors, as well as making it easier for new businesses to establish a foothold in the emirate.
UAE named among world's top five most competitive economies: The UAE is named among the world's top five most competitive economies for the first time in its history in the new IMD World Competitiveness Report, marking a landmark moment for the Emirates as it works towards meeting its Vision 2021 economic diversification goals. The result caps an impressive rise through the rankings for the UAE, which came in 16th place in 2016. The UAE now ranks first globally for business efficiency according to the IMD, outshining other economies in areas such as productivity, digital transformation and entrepreneurship. Established in 1989, the IMD World Competitiveness Rankings incorporate 235 economic indicators and analyses 63 major economies worldwide.