Working with The First Group - an interview with our HR Director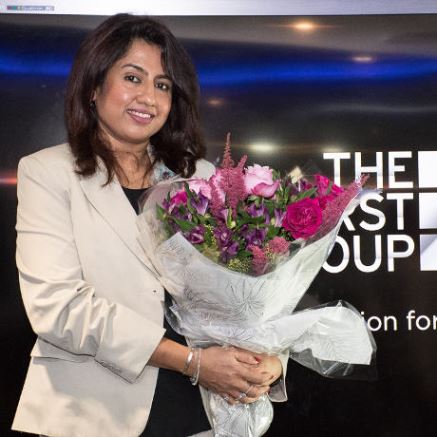 We talk to our HR Director, Anjana, about her time with The First Group, from when it began to the growing company it is today.
1. Do you remember your first day at the company? What was your most memorable moment?
It was very memorable as we were only in the Links office on that one day, and later on the same day we moved to our new office in Sheikh Essa Tower. I also recall my first meeting with Danny, who corrected me for having my arms folded as he was addressing us. This is one lesson I will never forget, as Danny said that this indicates to people that we are not open to suggestion.
2. What was your role back then?
I had just returned from Canada, when the opportunity with TFG was presented to me. It was very exciting as it was a completely new role. I took my first position as a Book Keeper and Receptionist, confident that I would soon climb the ranks.
3. You work with people – what has been the most emotional moment for you throughout all these years?
I am a very sensitive and emotional person; I wear my heart on my sleeve. There have been several moments through the course of my years which have been emotional. It's always hard to let people go, however in our business we are lucky, and we often get the chance to get people back!
4. Tell us about your team. 12 years is a long time – how has this changed through the years?
I have a great team, they are extremely hardworking and amazing individuals. I manage HR, Payroll, Office and Reception, and working with a team of this size is challenging. Each team is a really interesting mix of nationalities and people. I strongly believe that change is good and believe that whatever happens is for a good reason. I prefer not to dwell on the negatives, as negative people also don't last long.
I do have high expectations of my team and encourage them to challenge themselves. Most of them realise that this will ultimately assist in their growth personally and professionally and are glad for the guidance. I like to lead by example and therefore will never take my position or seniority for granted.
5. Your current role as Director of HR is one of the key roles in the company. It requires lots of mental strength and responsibility. What do you find most challenging about your work?
Yes, this position does require a lot of mental strength, however I am grateful for the fact that I have been blessed with a strong personality and the ability to naturally cope with the demands.
As much as the job is challenging, it is also exciting as no two days are the same - every day is a new day with something new happening.
6. You are known as an "Iron Lady'' at work, but we also know you as a fun person who enjoys a good laugh outside of working hours. How did you earn this reputation?
I do take my responsibilities seriously and never take my position or tenure for granted. I believe that discipline is important, something which I often find is lacking in the younger generation. By nature, I see things as black and white, and this is where the perception of the iron lady came from. Another reason for this title is the fact that I am also the oldest employee to manage important functions of HR, Administration and Payroll which requires a lot of adherence to policies.
7. What would your advice be for all newcomers?
The one quality that I look for in an individual is a great attitude / attitude to learning.
When I hire someone for my team, I am always looking for this as much as the required experience or qualification – if your attitude is nothing to write home about, then there will be no future, but, if on the other hand, you have a great attitude and will go about acquiring the required skills and are always willing to learn, then that's a winning combination.
Don't take any relationship for granted – be it work, or personal – when you do, these suffer. Your attitude to work should be the same on the day you joined (trying your best to impress) as it is every other day. We have to motivate ourselves daily and ensure that we are getting the best out of each day, which will ultimately help us in OUR OWN PERSONAL GROWTH.
Finally TFG is a fantastic company to work for. You will see that most employees have been with us a long time which in itself proves what a great employer we are. Don't give yourself a chance to regret why you didn't make this relationship work!