The First Group Signs Landmark Deal to Bring World's First 'MasterChef The TV Experience' Restaurant to Dubai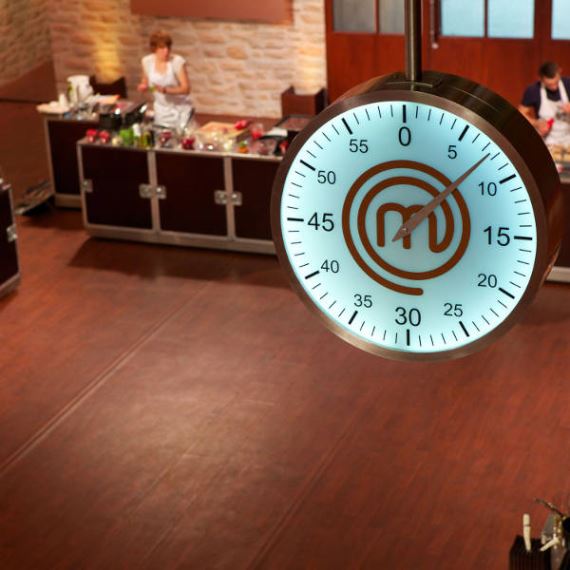 New 'MasterChef the TV Experience' restaurant set to make its mark on Dubai's dining scene with world-first concept based on Endemol Shine Group's hugely popular international TV series
Dubai, United Arab Emirates, 29 January 2018: Dubai-based property developer and fast-growing F&B specialist The First Group has signed a landmark deal with global content powerhouse Endemol Shine Group to bring the world's first MasterChef the TV Experience restaurant to Dubai.
Based on the hugely popular MasterChef reality television series, the restaurant will introduce a world-first dining experience to Dubai that will showcase the talents and recipes of MasterChef series contestants from many of the 52 territories where the programme is produced worldwide.
Set to debut in The First Group's forthcoming Wyndham West Bay Dubai Marina Hotel, which is scheduled to open in the second half of 2018, the restaurant concept will fully immerse guests in the MasterChef TV show experience. Featuring an interior design concept inspired by the MasterChef TV set itself, diners will be able to choose from a dynamic menu featuring popular original dishes conceived and inspired by series contestants and champions.
MasterChef is produced and distributed by Endemol Shine Group. It is the most successful cookery television format in the world having been adapted locally in 52 countries. It is seen in over 200 countries and watched globally by over 250 million viewers.
Frances Adams, Endemol Shine Group Director, Brand Strategy commented, "MasterChef has a global fan base who are keen to engage with the brand in new ways and our extensive range of successful products and experiences are testament to its worldwide appeal.
MasterChef the TV Experience is an exciting opportunity for audiences in this market to enjoy a unique and immersive dining experience that will truly reflect the values, quality and integrity associated with MasterChef."
The brand's massive popularity makes the opening of the world's first MasterChef the TV Experience restaurant in Dubai a major coup for the city, said Duncan Fraser-Smith, Director of Global Food & Beverage for The First Group.
"We're incredibly excited to introduce this unique restaurant concept to Dubai," he said. "It is an extension of an iconic brand that will further enhance the city's reputation as a global dining destination."
Fraser-Smith explained that The First Group will work with Endemol Shine Group to take the concept to other cities worldwide in the coming years. "The fact Dubai will introduce the brand to the world is a truly significant moment for the city's restaurant scene," he added. The signing of the restaurant also represents a milestone development for The First Group, which aims to introduce up to 40 original and world-first dining concepts to the UAE by 2021.
The firm recently debuted three highly original F&B outlets in its new TRYP by Wyndham Dubai hotel located in Barsha Heights. Local, the hotel's rustic social eating house, features a laidback Mediterranean- and gastro-pub inspired menu, while the hotel's poolside bar, L!QD, serves delicious tapas and lifestyle-focused cocktails in a chic, Ibiza-inspired al fresco environment.
TRYP by Wyndham Dubai is also home to the city's most exciting new and original bar and restaurant, BarBary. Harking back to the decadent era of 1920s Paris, the venue features an inspired interior design dominated by luscious red tones, retro soft furnishings and sophisticated mood lighting.
"We are committed to developing unique, fun and interesting F&B concepts unlike anything else in Dubai. This ethos is encapsulated in all of our openings to date and will be showcased in MasterChef the TV Experience when it opens at Wyndham West Bay Dubai Marina," said Fraser-Smith.
"We are passionate about delivering exceptional and original dining experiences with soul."
ABOUT ENDEMOL SHINE GROUP
Endemol Shine Group is a global content powerhouse creating world class content for all platforms. As a producer and distributor, Endemol Shine Group works on a unique local and global axis comprising of more than 100 companies in over 20 markets. Delivering 700 productions in over 50 languages, the Group's portfolio enthrals and inspires across scripted and non-scripted genres; coupled with digital, gaming, brands and licensing and distribution operations.
*Source: AETOSWire