THE FIRST GROUP'S BLOOD DONATION DRIVE DECLARED A RESOUNDING SUCCESS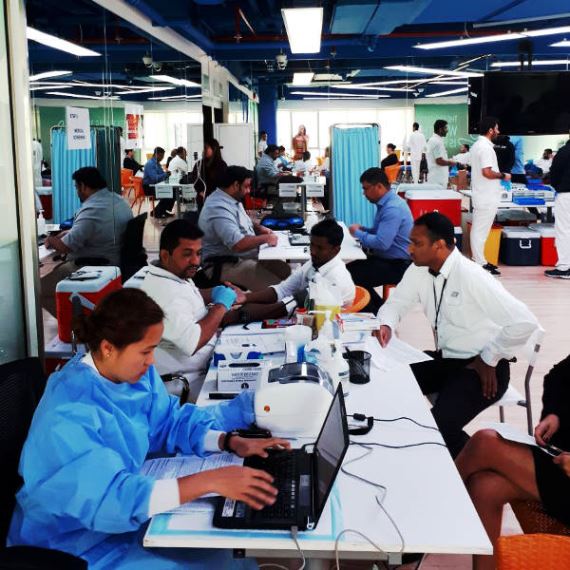 Dozens of The First Group's employees have generously donated blood as part of an initiative launched in partnership with Dubai Health Authority's (DHA) Dubai Blood Donation Centre (DBDC) this month.
71 members of staff gathered at the TFG Fitness & Wellness Hub at Tameem House to donate blood in support of the corporate blood drive campaign. Each staff member received a health check including blood pressure and body temperature analysis prior to donating blood. They were also required to complete a detailed questionnaire to ensure their suitability for taking part in the blood drive.
According to DHA, each whole blood donation can save the lives of three to four patients in emergency situations. Commenting on the success of the programme, Rob Burns, CEO of The First Group, said: "We had a great staff turnout for this fantastic initiative, which is testament to the generosity and community spirit that defines our team," he said. "As a company, we are proud to play a small but important role in support of this vital healthcare campaign, which will help save the lives of people in need."
January's blood drive was another example of The First Group's commitment to corporate social responsibility, as epitomised in the firm's 'Foundation for Growth' motto. TFG currently supports 12 charitable causes worldwide that promote sustainable health and education initiatives and are designed to enrich the lives of underprivileged young people.
For more information about The First Group's charitable work, click here.