The First Group heads to Africa to donate US$ 30,000 to Kanu Heart Foundation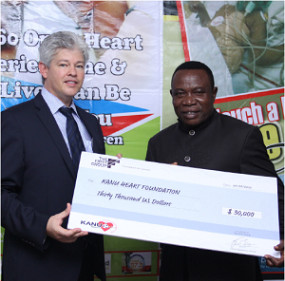 The First Group joined The First Team ambassador and sporting legend in Lagos to meet the children who will receive lifesaving heart surgery
November 2013: The First Group is proud to reveal it is donating another US$ 30,000 this year to the Kanu Heart Foundation, to help underprivileged African children gain much needed heart surgery. The First Group COO, Rob Burns, joined fellow team members on a trip to Lagos to personally hand over the cheque, and to meet the children who will receive lifesaving treatment as a result.
The Kanu Heart Foundation was set up by former Nigerian footballer and ambassador for The First Group, Nwankwo Kanu, following his own battle with a serious heart condition. The sporting legend, who is a member of The First Team, underwent open heart surgery in 1999 shortly after leading Nigeria to an Olympic Gold Medal. Since then, Kanu has dedicated his life to helping African children with life threatening heart ailments.
"The Kanu Heart Foundation is a charity that is close to our hearts, not only because of Kanu's connection to us as a brand ambassador, but also because it underlines The First Group's own core ethos; a Foundation for Growth," commented Danny Lubert,  Joint Chairman and Co-founder of The First Group. "To us, this goes beyond developing amazing property and growing assets. Our charity commitments all support the growth of young people through health and education, and thanks to Kanu's unwavering commitment, these children will have a real chance at a brighter future. We are honoured to be a part of that."
This is the second time The First Group has made such a substantial donation to the Kanu Heart Foundation. As well as awarding the funding for the surgeries, the team will be giving the children computer tablets during their visit. To date, the Foundation has carried out more than 459 heart surgeries and hopes to soon open its own 40 bed Cardiac Specialist Hospital in Abuja. The center will offer free heart surgeries to children under 12 and highly subsidised ones for adults.
As an ambassador for The First Group, Kanu joins a host of sporting celebrities on The First Team; fellow footballers Michael Owen and Andriy Shevchenko, Russian Tennis star, Svetlana Kutznetsova and South African Rugby player, Bryan Habana. In addition to being a brand spokesman for The First Group, Kanu is also a property owner at The Diamond in Dubai Sports City and Wyndham Dubai Marina, The First Group's projects from Dubai property portfolio.
About The First Group
The First Group is an internationally acclaimed, British-owned, global property development company based in Dubai, with an exclusive focus on hotel development. The First Group was co-founded by joint chairmen, Danny Lubert and Gary Shepherd, who collectively draw from strong and diverse backgrounds in the fields of global property, finance, acquisition, marketing and product development. With a long and proud history of experience and success, the company offers innovative and unparalleled off-plan opportunities in the UAE and Africa, with an emphasis on the lucrative world of hotel investment. With offices spanning Dubai, Jeddah, Moscow, Almaty, Kazan, Astana, Abuja and Lagos. The First Group continues to produce and develop highly sought after property investments in some of the world's most desirable locations. For more information visit www.thefirstgroup.com