The First Group commits to exciting mentorship program in significant expansion of ambitious CSR strategy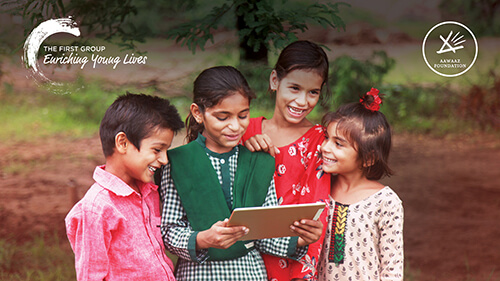 Integrated global property developer The First Group's groundbreaking Corporate Social Responsibility (CSR) strategy, Enriching Young Lives, is marking the next step in its evolution by pledging its support to an ambitious talent mentoring programme overseen by Aawaaz Foundation, India's leading education foundation.
The programme, which will be funded by The First Group and managed by Aawaaz Foundation, will see university students, known as Mentors, help school students – or 'mentees' – develop their talents and help them in academic development to excel in later life, providing them with the tools to one day also give back to their own communities. It will also provide them with the necessary social and emotional support to ultimately excel in their chosen careers.
The programme aims to build on the success of The First Group's existing charity programmes in India, which provide extensive educational funding and other support to children living in underprivileged communities across the country.
One of The First Group's most important long-term beneficiaries in this regard is the highly respected Food for Life Vrindavan (FFLV), a humanitarian aid organisation that supports the poorest communities in the Vrindavan area to the south of the Indian city of New Delhi.
The First Group's charitable donations help pay for vital food and educational supplies for more than 1,500 impoverished children enrolled at Sandipani Muni Schools and elsewhere in the region.
"As an organisation, we are extremely proud to be playing a role in helping highly talented students living in poorer communities fulfil their potential while realising their long-term professional dreams," said Rob Burns, CEO of The First Group.
Students enrolled in the Mentorship program will receive financial and educational support, while gaining access to upskilling opportunities in conjunction with their personal mentors.
The Mentorship Programme is designed to ensure these young and talented students fulfill their potential at school, setting them up for later life and providing them with a platform to leave a lasting and positive impact on their local communities.
"Through our partnership with Aawaaz, we aim to provide students with the necessary support for them to excel in their studies and in life, and to one day give back to their own communities, helping to raise living standards while inspiring the next generation," adds Burns.
About TFG's enriching young lives programme
Reflecting The First Group's corporate mantra, 'Foundation for Growth', its 'Enriching Young Lives' CSR strategy focuses on helping to provide children with a brighter future through sustained educational support programmes.
Over the years, charities operating in Asia, Africa and the Middle East, have benefitted from The First Group's support.
The First Group's charitable donations help to pay for vital food and educational supplies for impoverished children enrolled at the school and elsewhere in the region.
To learn more about The First Group's CSR programme, visit https://www.thefirstgroup.com/en/corporate-social-responsibility/enriching-young-lives/mentorship-programme/