THE FIRST GROUP CAPS SUCCESSFUL DEBUT AT SAUDI WAFIEX EXHIBITION WITH KSA MINISTRY OF HOUSING AWARD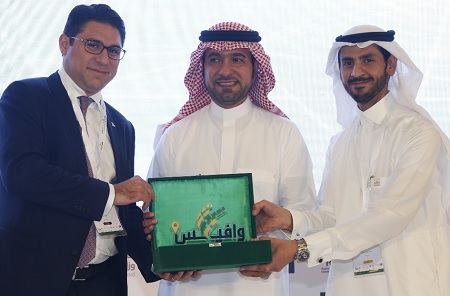 Leading Dubai-based developer receives key acknowledgement at inaugural exhibition and forum promoting off-plan property sales to Saudi investors
Riyadh, March 2018: Marking a significant milestone for its operations in Saudi Arabia,The First Group was honoured to receive the prestigious KSA Ministry of Housing Award at the WAFIEX Exhibition & Forum for Off-Plan Projects recently staged in Riyadh.
The award acknowledged The First Group's reputation as a highly respected and credible Gulf-based real estate developer and provides Saudi investors with the assurance that all current and future properties marketed by The First Group in the kingdom meet the Ministry's licensing and regulatory requirements.
The First Group currently operates three sales and marketing offices in Saudi Arabia located in Riyadh, Jeddah and Khobar.
While the kingdom is already one of the company's most important markets, with the granting of the KSA Ministry of Housing Award, the firm can expect to receive an even greater level of interest in its portfolio of hotels and hotel apartments from Saudi investors, commented The First Group's Chief Executive Officer, Rob Burns.
"Receiving this award from the KSA Ministry of Housing represents a significant milestone for our business and is a clear vote of confidence from Saudi Arabia's property market regulator," he said.
"The kingdom is already a key market for us, but we anticipate this award will open further doors for our brilliant sales and marketing teams based in the country."
The WAFIEX Exhibition & Forum, which was staged in Riyadh from 28-31 March, was the first official real estate event staged in the kingdom to specifically focus on off-plan sales and rental projects.
Inaugurated by the Minister of Housing, Majid Al-Hogail, the event showcased various successful off-plan projects and operational models licensed and implemented by the Ministry's sales and lease programme, known as Wafi, as well the various financing options available to investors.
The event attracted the involvement of leading developers and financial institutions certified by the Ministry of Housing, as well as a significant number of individuals interested in approved off-plan property acquisitions.