CIEL, THE FIRST GROUP'S STUNNING HIGH-RISE HOTEL DEVELOPMENT IN DUBAI MARINA, CROWNED WORLD'S BEST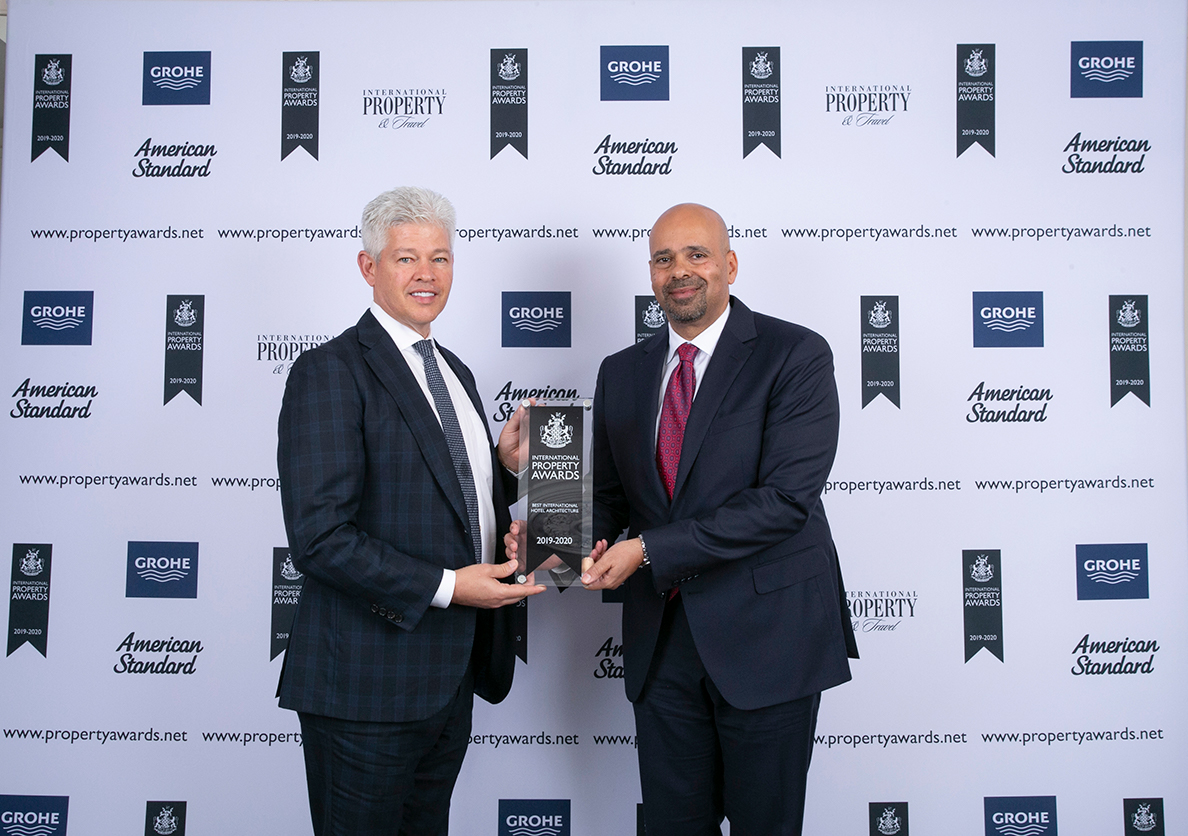 Ciel, which is set to become the world's tallest hotel, receives three major prizes at 2019 International Property Awards, including 'Best International Hotel Architecture'
Ciel, The First Group's landmark hotel currently under development in Dubai Marina, has outshone rivals from around the world to claim the top prize in three major categories at the prestigious 2019 International Property Awards (IPAs).
Ciel, which will be the world's tallest hotel upon its completion, received awards for Best International Hotel Architecture, Best Hotel Architecture Arabia and Best High-rise Architecture Arabia, at this year's glittering awards ceremony, which was recently staged in London.
Designed by award-winning architectural firm, NORR, Ciel will reach a height of 360.4 metres and will house 1,209 luxury suites and serviced residences upon completion.
Featuring contemporary interiors and a remarkable glass observation deck providing stunning 360-degree vistas across Dubai Marina, The Palm Jumeirah and the Arabian Gulf, Ciel is an exciting addition to this iconic precinct's world-famous skyline.
"We are extremely honoured to receive these prestigious awards for Ciel," said Rob Burns, CEO of The First Group, who received the awards on behalf of the firm.
"Ciel is a remarkable project that will become a landmark in its own right, further enhancing Dubai's reputation as one of the world's great cities and tourism destinations.
"The ambition and character evident in Ciel's striking design reflects our unique approach to developing quality hotels that strive to set a new benchmark for upper midscale accommodation."
The latest awards success caps a remarkable year for Ciel and The First Group. In June, Ciel received the top prize in four major categories at the 2019-20 Dubai, Africa & Arabia Property Awards: Hotel Architecture; New Hotel Construction and Design; Commercial High-rise Development; and High-rise Architecture.
The International Property Awards are judged by an independent panel comprising more than 80 industry experts and chaired by Lord Caithness, Lord Best, The Earl of Liverpool, and Lord Thurso, who are all members of the House of Lords in the UK Parliament.
The judging panel considers factors including design, quality, service, innovation, originality, and commitment to sustainability, when selecting overall winners in each category.
Ciel's design highlights include a rooftop leisure deck featuring a luxury swimming pool, fitness centre and steam rooms that will offer sweeping vistas of the Arabian Gulf. The rooftop area will also house two of Ciel's four world-class dining facilities, providing guests with breathtaking views of Dubai's iconic skyline.
Ciel is situated in the heart of Dubai Marina and is conveniently located close to its many attractions, including the popular Marina Walk al fresco dining and retail precinct, the Marina Mall shopping and entertainment complex, and Bluewaters Island.
Its premier location will also provide convenient access to Dubai Metro and the city's major road networks, while Dubai International Airport and the new Al Maktoum International Airport are both a 30-minute drive away.
The First Group is one of the region's fastest-growing hotel developers with a pipeline of seven properties under development in some of Dubai's most popular districts, including Business Bay, Dubai Marina and Jumeirah Village.