Record bookings buoy Dubai's hotel market ahead of Expo 2020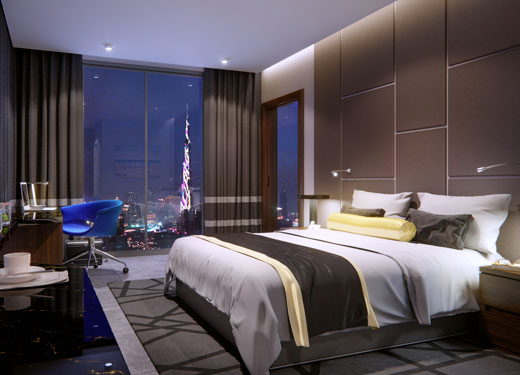 Dubai's hotel sector celebrated another benchmark performance in 2019, with the total number of occupied room nights eclipsing 32 million for the first time.
The result marked a 6.5% improvement on the 30.13 million occupied room nights reported in 2018, which was itself a record full-year result.
Dubai's hotel guestroom inventory stood at 126,120 in December 2019, up 9% year on year, while the number of hotel establishments totalled 741, up from 716 a year prior.
The city's five-star guestroom inventory continues to dominate, accounting for 34% of the total supply. A total of 33,120 rooms are currently designated four-star, accounting for 26% of the total guestroom supply.
Demand for quality upper midscale accommodation continues to grow in Dubai, reflecting the city's efforts to diversify its tourism offering and attract a broader visitor demographic.
The First Group is one of the city's most respected developers of upper midscale hotels, with three four-star properties – Wyndham Dubai Marina, Millennium Place Marina and TRYP by Wyndham Dubai – already open, and another six three- or four-star hotels currently under development in locations including Dubai Marina, Business Bay and Jumeirah Village.
It is also developing the world's tallest hotel, the luxury Ciel in Dubai Marina, which will set new standards for luxury and affordability in this competitive segment.
The opening of Expo 2020 Dubai in October is set to provide a massive boost to hotel occupancies in the city. The event, which will run for six months, is forecast to welcome 25 million unique visitors, many of whom will travel from overseas. Dubai, which is already recognised as the world's fourth most-visited destination, is also expected to attract 20 million tourists outright in 2020, up from 16.73 million in 2019.
"Dubai continues to flourish as a world-class destination for both leisure and business travellers – as demonstrated by its status as the planet's fourth most visited city in Mastercard's Global Destination Cities Index 2019," commented Sanjive Khosla, chief commercial officer, Expo 2020 Dubai.
"The impressive visitor numbers are set to increase even further next year, as we welcome 192 nations for a once-in-a-lifetime celebration at Expo 2020 Dubai. With millions of visitors projected to come from outside the UAE, we anticipate that the region's first ever World Expo will create short- and long-term benefits for Dubai's tourism industry while enhancing its reputation as a dynamic and diverse global meeting point."
The Director General of Dubai Tourism, Helal Saeed Almarri, said the hospitality sector remains a crucial driver of overall tourism growth.
"Dubai's hotel industry remains at the forefront of cross-sector efforts to drive tourism growth, as we collectively work towards realising our Tourism Vision and enable our 2020 goals," he says.
"Dubai's position as the fourth most-visited city in the world, and the consistent growth in overnight visitation, has been achieved in large part thanks to the efforts of our committed stakeholders in the domestic hotel and hospitality sector."