Yoga festival to attract 10,000 visitors to Dubai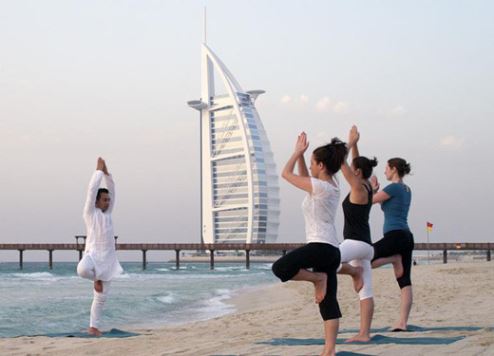 More than 10,000 yoga enthusiasts from across the globe are expected to visit Dubai next month for a two-day body and mind festival.
XYoga, which is being organised by extreme sports event specialist XDubai and Dubai Tourism, is being hailed as the largest yoga event of its kind in the region.
Set to take place from February 19 to 20, the free-to-attend public festival will be staged at the Burj Park Downtown Dubai, overlooking the Burj Khalifa.
It will offer a series of yoga sessions, workshops, meditation and talks from sunrise to sunset, led by globally-recognised yogis.
Open to people of all ages and abilities, the aim of XYoga, which is being planned as an annual event, is to position Dubai as a leading yoga destination.
XDubai marketing director Javad Khoramifar said XYoga would promote yoga in "a uniquely Dubai way".
"The initiative has a lot of benefits, and highlights the accessibility of yoga as a lifestyle choice to help encourage people to defy their bodily limits and mental boundaries," he said.
"Yoga is part of every athletes' life, especially those who are into action sports, which is and remains a core focus for XDubai. As a sport, yoga is a culture, a life choice and a challenge."
The XYoga festival will offer both vinyasa yoga and Acroyoga, while free workshops will cover topics including healthy eating. There will also be live music and DJ sets.
XDubai said it planned to run a number of smaller yoga events throughout 2016.
The Jumeirah Group already runs regular yoga events including its popular Full Moon Yoga at Madinat Jumeirah, which takes place on the beach overlooking the Burj Al Arab.