World's largest twin skyscrapers set to be built in Dubai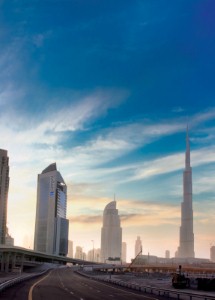 Plans to build the world's tallest twinned skyscrapers in Dubai have been revealed.
Set to be constructed at The Lagoons development near Dubai Creek, artist's impressions show the two buildings will be shaped like cones or rockets.
Full details are yet to be released, but the developers behind the scheme have claimed the structures will be the tallest twin skyscrapers in the world.
Dubai is already famous for its towering high-rise buildings. Standing 828 metres tall, the emirate's Burj Khalifa has been the tallest man-made structure in the world since 2010.
The new towers will be part of a 6 million square metre development that will also contain a number of residential buildings. In total, the site will be three times the size of the Downtown Dubai development that is home to Burj Khalifa.
Ahmad Bin Byat, chief executive of Dubai Holding, which is working on the development, described it as 'another iconic project that will be the pride of the city'.
'All stakeholders in Dubai's property market have learnt the lessons [from the global financial crisis],' he stated.
'This is a long-term project and that there will be certain periods of slow demand is a fact of life. But what it all boils down to is whether there is enough supply and demand happening in the market,' Mr Bin Byat added.
As well as Burj Khalifa, Dubai is also home to a number of iconic skyscrapers that are among the world's largest.
Both Princess Tower and 23 Marina are within the top 25 tallest buildings on earth, while another eight structures in the emirate are among the top 50.
Earlier this month, Dubai was named one of the top 50 cities in the world for property development by Cushman & Wakefield.
In just a year, the emirate jumped from 186th place to 39th, with total investment levels reaching $3.68 billion (£2.29 billion).