World's first hyperloop service to commence construction in UAE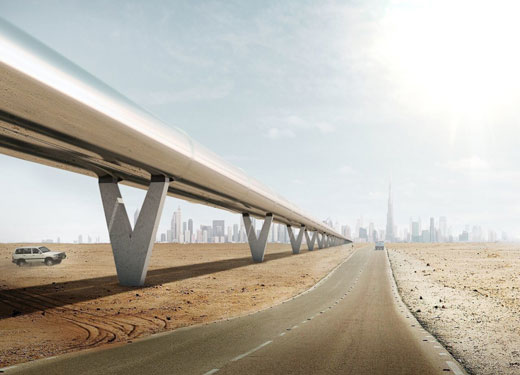 The world's first commercial hyperloop system will commence construction in the third quarter of 2019 on the border of Dubai and Abu Dhabi, it has been revealed.
The futuristic service promises to transport passengers between Dubai and the UAE capital in around 12 minutes, compared to 75 minutes by car today.
The system utilises a suspended vacuum tube containing passenger and cargo pods that are propelled from one end to the other using a series of magnets at speeds up to 1,200 km/h.
The first phase of the Hyperloop track will pass by the Expo 2020 Dubai site and Al Maktoum International Airport, making it feasible for expo visitors to be transported to Downtown Dubai or Abu Dhabi in a matter of minutes.
 "We are bringing the future of rapid transportation technology to all those living in the UAE," commented HyperloopTT chairman Bibop Gresta at the launch announcement.
"[This] announcement is a testament to the continued commitment and determination of all our partners, both within the UAE and abroad. As we move forward with the system we invite other interested organisations in the region and around the world to join us in making history."
Hyperloop will bring a new level of comfort and convenience to passengers using the service, HE Mattar Al Tayer, director general, and chairman of the Board of Executive Directors of Dubai's Roads and Transport Authority (RTA), previously revealed.
The hyperloop passenger cabin will feature "deluxe interiors, cutting-edge broadcasting and display of information and entertainment materials as well as leather seats", he said.
"The hyperloop technology uses an electromagnetic propulsion system to accelerate the movement of goods and services through a vacuum tube. Accordingly, the hyperloop can travel between Dubai and Abu Dhabi in 12 minutes and lift about 10,000 passengers per hour in both directions."