World's first 3D-printed building unveiled in Dubai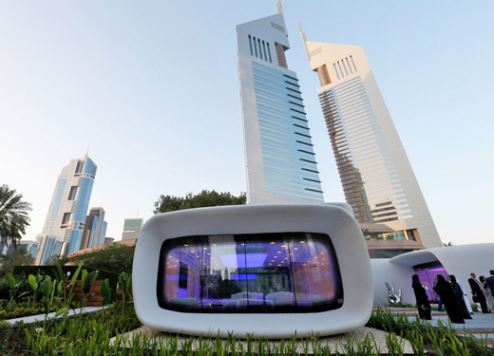 The world's first fully functional 3D-printed building has been unveiled in Dubai.
The structure, located at Dubai's Emirates Towers, will house the temporary headquarters of the Dubai Future Foundation.
It marks the latest step in Dubai's 3D Printing Strategy, a global initiative to harness 3D printing technology for the good of humanity and position the city as a leader in the field by 2030.
The 2,700-square-foot, single-story building was built in just 17 days using a gigantic, 20-foot tall 3D printer and a special mix of concrete, fibre-reinforced plastic and glass fibre reinforced gypsum.
Although the "printer" was huge - around two stories tall, 120 feet long and 40 feet wide - it only needed one person to ensure it was functioning properly.
The remainder of the 18-person construction crew comprised installers, electricians and mechanical engineers who completed the job for just $140,000 in construction and labour costs — around half the price to build a comparable structure using conventional methods.
Next year, the structure is scheduled to become the home of Dubai's Museum of the Future.
"This is the first 3D-printed building in the world, and it's not just a building, it has fully functional offices and staff," the UAE Minister of Cabinet Affairs, Mohamed Al Gergawi, told news agency Reuters.
According to Gergawi, Dubai plans to have 25 percent of the buildings in the emirate constructed using 3D printing methods by the year 2030.