Why you should choose Dubai for your next investment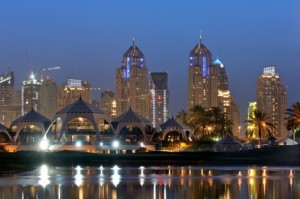 Although Dubai is seen as a hotspot for oil, it has been moving away from this image for the last few years, instead focusing on the tourism and service sectors. As a result of this transition, the emirate's economy is growing and millions of visitors are flocking to its shores every year, meaning now is the time to invest.
The tourism industry in Dubai is exploding as the Dubai Department of Tourism and Commerce Marketing (DTCM) strive to achieve its target of attracting 20 million visitors per year by 2020 - a goal that is looking more attainable with each passing month.
Last year, 11 million tourists made their way to the emirate, each needed a place to stay during their trip, meaning the hotel industry is reaping the rewards of the growing number of visitors.
Occupancy
During 2013, hotels in Dubai recorded an occupancy rate of 80 per cent, even though the emirate is home to a large supply of developments, according to a report from Ernst and Young (EY).
Compared to the entire GCC region, the emirate demonstrated the strongest performance and displayed positive growth across all of EY's key performance indicators (KPIs). Yousef Wahbah, MENA head of transaction real estate at the firm, said despite there being an influx of new builds, occupancy rates were incredibly healthy last year.
This means occupancy rates in Dubai have risen for the fourth year running and experts predict that there will be a stable level of expansio in the coming year. Harmen de Jong, a consultant with Knight Frank, believes maintained growth will see an increase in the daily rates paid for rooms.
Dubai's developments are also beginning to be recognised as some of the top available in the global market, with TripAdvisor naming it best in the world for hotels.
Occupancy levels will increase even further as the DTCM boosts its efforts to entice international tourists to the emirate and the World Expo 2020 draws closer - an event expected to attract 25 million tourists.
Room rates
As well as achieving strong occupancy rates for the last four years, hotels in Dubai has maintained high profits levels during the same period, according to research from HotStats.
Peter Goddard, managing director of TRI Hospitality Consulting, said: "A combination of stable demand and increased confidence in the market resulted in hoteliers applying more aggressive yielding strategies which resulted in average rates rising 6.5 per cent to $324.44 in 2013.'
Furthermore, a separate study from STR Global revealed that Dubai has some of the most profitable hotels in the world. The emirate ranked very highly, coming third behind Hong Kong and Paris, but ahead of tourist favourites such as London and Singapore. The study assessed 8,000 hotels across 50 different countries outside of North America.
Visitors
During the first three months of this year, so many visitors landed at Dubai International Airport that it finally overtook London Heathrow as the world's busiest global hub.
The airport handled 18.36 million passengers from January to March, compared to the 16.1 million that passed through Heathrow's doors.
Dubai International has seen an increase in visitors year on year and according to the Centre for Aviation (Capa) traffic at the airport has tripled over the course of the last ten years. In 2004, Heathrow was by far the busiest travel hub in the world, whereas the emirate lagged behind in 45th position - meaning in just a decade Dubai has shot up the rankings to land in first place.
Improvements are currently being made to the airport, with refurbishments almost completed on the northern runway. Paul Griffiths, chief executive of Dubai International, said: "The opening of the northern runway and ramp up to a full schedule, when combined with the upcoming Eid holidays, will result in a significant surge in passenger numbers from July 21st."
Additional plans are in place to boost the airport's capacity from 100 million by 2020 - a project that will cost around $7.5 billion (£43.8 billion).
This coupled with the DTCM's 20 million visitors a year target, this means the tourism industry in Dubai is set to explode.
Posted by Bob Brunskill