WHY REAL ESTATE IS A MUST FOR YOUR INVESTMENT PORTFOLIO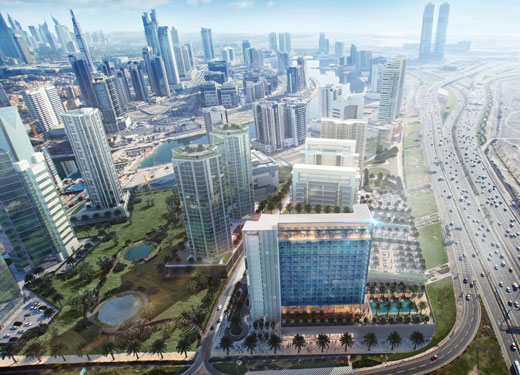 Bricks and mortar assets are a vital component of a diversified investment strategy
Investing in real estate remains a sound decision for those looking to develop a well-rounded portfolio safeguarded against market fluctuations or downturns.
Those who alternatively choose to invest in the stock market, for example, often find themselves at the mercy of larger forces they have little control over. If a crash occurs, they stand to lose a substantial portion – or even the entire value – of their portfolio. Unlike real estate, there are no tangible assets involved.
By investing in bricks and mortar – particularly real estate assets with guaranteed rental income that appreciate over time – investors spread their risk.
Rapidly expanding property markets such as Dubai have proven a magnet for savvy investors who recognise the potential returns this dynamic, emerging global city can offer.
Dubai ranks among the world's most liveable cities, having been named top city in the Middle East for quality of life by the Economist Intelligence Unit and Mercer respectively in 2017.
Not only is Dubai one of the world's fastest growing cities, it is also the fourth most-visited tourism destination, with 15.8 million international overnight visitors in 2017, putting it ahead of the likes of Singapore, New York and Seoul.
With a fast-growing population of more than 2.3 million, world-class infrastructure, a dynamic business-friendly economy and stringent, investor-friendly property regulations, Dubai is the most-popular real estate investment market in the Middle East, and one of the most appealing worldwide.
According to data sourced from the Dubai Land Department (DLD), 69,000 real estate transactions were recorded in the city in 2017, worth a total of US$77.6 billion (up from 41,776 transactions worth $70 billion in 2016). Foreign investors accounted for more than US$15 billion of the total figure.
Gulf-based investors committed more than $10 billion to property purchases, followed by Indian investors with $4.24 billion-worth of investments, Saudis with $1.9 billion and Brits with $1.6 billion.
Notable nationalities in the top 10 included Pakistanis with almost $1.4 billion-worth of investments, along with Chinese, Canadians, Egyptians and Jordanians.
According to industry analyst JLL, Dubai's rising global appeal as an international property investment destination of choice can be attributed to the fact it possesses "very high-quality infrastructure platforms and [a] higher-value visitor economy".
It also says efforts by the Dubai government to "improve transparency" in the city's real estate sector has given foreigners confidence in the long-term security of their investments. Earlier this year, the firm ranked Dubai as the most transparent real estate market in the Middle East for the third year in a row.
"JLL's research shows there is a clear relationship between the transparency of real estate markets and the level of investment they attract," commented Craig Plumb, head of Research, MENA at JLL. "One of the key objectives of the DLD is to attract more investment and the government has therefore launched a number of initiatives to improve transparency and the quality of information available to real estate investors."
Dubai's popularity as a real estate investment market among foreign investors can also be attributed to the lucrative returns on offer.
Respected UK publication Business Insider recently ranked the UAE among the top three countries outside the United States for international investors seeking to add rental property assets to their portfolios.
According to data published in the report, UAE property offered investors an average rental yield of 5.19%, against an average monthly rental return of US$3,070.
The country ranked ahead of established and popular property investment markets including Canada, France, Ireland, Germany and Cyprus.
It is little surprise this winning combination of strong returns on investment, a safe and secure investment environment and a rapidly expanding and diversified economy has established Dubai as one of the world's most popular destinations for international property investors.
Talk to us today about the opportunities available in this dynamic property investment market.