Why it makes sense to invest in RAK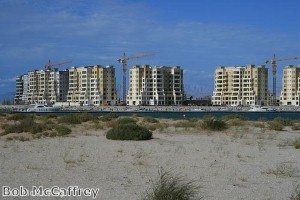 Dubai might grab all the headlines, but neighbouring emirate Ras al Khaimah (RAK) is starting to grow in stature.
According to Cluttons, property prices in the northern city have risen sharply in recent months, as the demand for new flats and apartments has skyrocketed, the National reports. 
Newly-built one-bedroom flats are now selling for AED 350,000 (£61,152), while landlords are demanding AED 30,000 a year in rent on average. 
The company also revealed apartment values have gone up by around 17.5 per cent over the past year.
Clearly, RAK properties are very reasonably priced and there is a good chance investors will make significant profits if they add new assets to their portfolios now.
Richard Paul, a director in Cluttons' residential valuations team, highlighted the potential of RAK.
'The reason that investment in RAK is making sense to some investors at the moment is that gross yields are pretty high. The price increases seem high because they are coming off a fairly low base,' he was quoted as saying.
Plans are in place to significantly improve the emirate's infrastructure, which will make it an even more attractive proposition for foreign traders.
The government is aware that visitor numbers have risen substantially in recent months and hotels have benefited from an upturn of tourists who fancy something a little quieter than Dubai.
In an interview with Gulf News, senior economic advisor to the RAK government and chief executive officer of the city's Free Trade Zone Peter Fort said new projects that will take the emirate's economy into the 'next phase of growth' are in the pipeline.
RAK's economy has expanded by eight per cent in the last two years, which is an incredible achievement.
Experts expect RAK to go from strength to strength in 2013, with visitor numbers predicted to rise by 20 per cent when compared to 2012. This is obviously great news for people who have already invested in hotels, apartments and villas across the city.