WHY INVEST: The One at JVT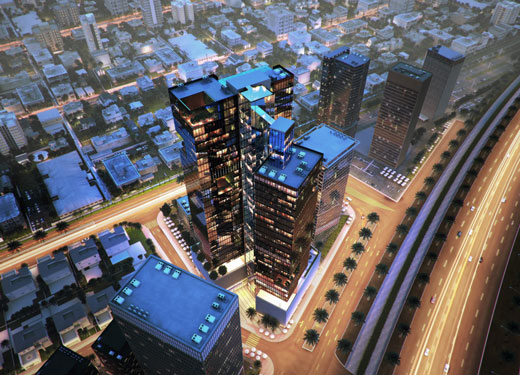 Scheduled to open this year, The First Group's new hotel development in Jumeirah Village Triangle represents one of the city's best hotel investment opportunities, thanks to its prime location close to the Expo 2020 Dubai site
The award-winning The One at JVT, which will operate as Millennium Place JVT, is an impressive four-star upper midscale hotel that will house 579 guestrooms and suites and a range of premium guest amenities.
Ideal for business and leisure guests, the hotel will feature 24-hour reception and concierge services; a range of restaurants and bars; a Club House featuring rooftop swimming pool, gym and sun deck; a business centre; and Wi-Fi access throughout the building. It will also feature a fully equipped, luxury spa facility and a VIP Lounge.
Millennium Place is an innovative and contemporary lifestyle hotel concept designed for modern travellers.
Managed by The First Group's operating partner, Millennium Hotels & Resorts, Millennium Place JVT is the second hotel to open under the luxury-lifestyle brand. The first, Millennium Place Marina – which is also owned by The First Group – opened in Dubai Marina in May last year.
Millennium Place JVT has won a number of prestigious international awards prior to its official opening.
In 2016, it received the Best New Design & Construction award at the UC Forward Gala ceremony staged at Shanghai International Trade Centre. UC Forward is a real estate sales and marketing consultancy and a partner of Fang.com, China's largest real estate information and analytics service platform.
Millennium Place JVT also received a 'Highly Commended' Award in the New Hotel Construction & Design category at the 2016-17 Africa & Arabia Property Awards.
The hotel's close vicinity to the Expo site makes it particularly attractive to potential investors. With 25 million people forecast to visit the event and as one of the first international hotels scheduled to open in the area, Millennium Place JVTis certain to attract strong demand.
CONSTRUCTION UPDATE
The One at JVT
- As of January 2020, the building's super structure has been completed;
- Block work is in progress to the 30th typical floor, while plaster work is in progress to the 19th typical floor. Curtain wall work is ongoing;
- Detailed drawings of the interior design of the hotel's F&B outlets are in the final stages of approval.
PRECINCT PROFILE: JUMEIRAH VILLAGE
* Jumeirah Village is immensely popular thanks to its central location, top quality, good value accommodation and prime transportation links.
* The area is divided into six districts spread across two co-located areas: Jumeirah Village Triangle, which was officially completed in 2012; and the larger Jumeirah Village Circle, which features a concentric road layout with a central community landscaped area located at the centre of the development.
* Jumeirah Village is centrally located less than 20 minutes' drive from Al Maktoum International Airport, the Expo 2020 site, Dubai Marina and Palm Jumeirah. It boasts direct access to the major motorways of Mohammed Bin Zayed Road, Barsha Road and Al Khail Road.
* Nearby attractions include Dubai Sports City, with its world-class cricket stadium, Ernie Els-designed desert links golf course and other sporting attractions; and the upcoming Al Khail Avenue mega mall, which will feature 350 retail outlets, restaurants and a multi-screen cinema spread across an area exceeding two million square feet. 
NEED TO KNOW
LOCATION: In the heart of New Dubai adjacent to Dubai Sports City
TOTAL AREA: 870 hectares
PLANNED BUILDINGS: 130+ residential, commercial and mixed-use developments
PROJECTED POPULATION: 300,000
TRANSPORT CONNECTIONS: Direct access to Mohammed Bin Zayed Road, Barsha Road and Al Khail Road (20 minutes' drive from Al Maktoum International Airport).
OTHER UPCOMING DEVELOPMENTS BY THE FIRST GROUP IN JUMEIRAH VILLAGE
In addition to The One at JVT, The First Group is currently developing two other landmark properties in Jumeirah Village.
Avalon Tower (operating as Copthorne Jumeirah Village Circle): This premium three-star property is currently under development in the heart of JVC. Featuring 352 suites spread over 17 floors, the hotel will house premium amenities including a luxury clubhouse, gym and rooftop swimming pool.
The One at Jumeirah Village Circle (operating as Ramada Plaza JVC): This award-winning, ultra-stylish 496-room hotel will be managed by highly respected international operator Ramada Hotels. It will provide guests with a host of world-class amenities including a Club House featuring a rooftop swimming pool, gymnasium, steam rooms and sun deck; premium restaurants; a fully equipped business centre; and 24-hour security and valet parking.