WHY INVEST: CIEL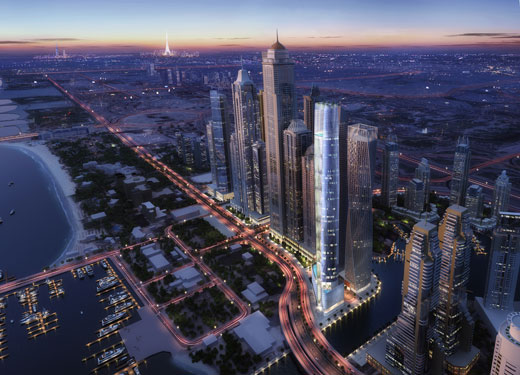 Ciel, The First Group's stunning hotel project currently under development in Dubai Marina, presents a rare and unrivalled opportunity to gain an investment foothold in one of the city's most dynamic and popular precincts
A landmark hotel project that will rise to a height of 360 metres – making it the world's tallest hotel upon completion – Ciel represents a stunning investment opportunity situated in the heart of Dubai Marina.
The property, which was recently named a winner in four major categories at this year's prestigious Dubai, Africa & Arabia Property Awards, represents The First Group's largest and most luxurious project to date.
Featuring a striking architectural design conceived by award-winning architectural firm, NORR, Ciel will house 1,042 luxury suites boasting contemporary interiors; sleek, modern furnishings; and the latest smart-room technologies. Guests will soak in the remarkable, panoramic views of the Arabian Gulf and nearby landmarks including Bluewaters Island, which is home to the world's largest Ferris wheel, Ain Dubai.
An incredible panoramic sky terrace, featuring a luxury infinity pool and world-class F&B outlets, will be the perfect place to relax and unwind. The tallest observation deck in the Marina district, the sky terrace will become an attraction in its own right, adding to Dubai Marina's strong appeal as a leading tourism destination.
Guests will appreciate Ciel's state-of-the-art fitness centre comprising gym and steam rooms, as well as the hotel's luxury spa. A fully-equipped business centre will also feature.
The property is located adjacent to the popular Marina Walk al fresco dining and retail precinct, close to the beach, the Marina Mall shopping and entertainment complex and several leisure attractions including Skydive Dubai.
Ciel's premier location also provides convenient access to Dubai Metro and the city's major road networks, while Dubai International Airport and the new Al Maktoum International Airport are both a 30-minute drive away.
"Ciel Dubai Marina will become one of the city's iconic buildings and consolidate The First Group's reputation as a developer of landmark properties and hotels in prestigious locations across the city," said Rob Burns, Chief Executive Officer of The First Group.
"Playing a key role in bolstering Dubai's world-class hospitality offering also benefits our valued investors. The First Group continues to develop stand-out properties that reflect the city's future ambitions and drive robust and sustainable returns for our owners."
WHY YOU SHOULD INVEST IN CIEL
* An award-winning development in the heart of Dubai Marina
* The world's tallest hotel upon completion
* An outstanding investment opportunity in one of Dubai's most famous precincts
* Outstanding features include a Panoramic Sky Terrace providing unrivalled views of Dubai's coastline and the Arabian Gulf
* World-class restaurants and leisure facilities, including a fully-equipped gym, infinity pool and spa
WHY DUBAI MARINA?
* Dubai Marina is the world's largest man-made marina, home to 1,400 berths, Dubai International Marina Club (DIMC), and a new cruise terminal with capacity for 1.2 million passengers annually
* One of Dubai's most popular residential, commercial and hospitality precincts
* A world-famous tourism destination in its own right
* One of the city's most popular destinations for property investment, with 1,445 transactions worth US$790 million in the first-half of 2018