Why halal tourism will prove a money-spinner in the UAE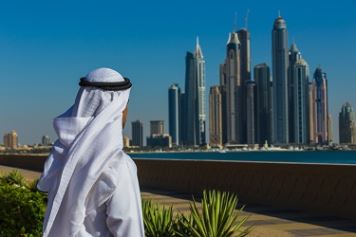 With a market value tipped to hit $233 billion by 2020, the Muslim travel sector is a target market for burgeoning tourism destinations like Dubai
"The Islamic economy is growing at nearly twice the rate of the global economy with Muslim consumer spending exceeding $1.8 trillion [annually]."
That was the poignant statement made last week by His Excellency Mohammed Abdullah Al Gergawi, chairman of the Dubai Islamic Economy Development Centre (DIEDC), who was commenting on the latest State of the Global Islamic Economy Report (SGIE 2015-2016).
"Islamic banking assets hover at some $1.3 trillion and are expected to double in just five years from today," added Al Gergawi.
The SGIE 2015-2016 report, which was commissioned by DIEDC and published by Thomson Reuters in collaboration with DinarStandard, was launched ahead of this week's Global Islamic Economy Summit (GIES 2015) in Dubai (Madinat Jumeirah, October 5-6), where regional and international policy makers and business leaders will discuss the growth potential of the Islamic Economy.
"Developing the Islamic economy is not limited to Islamic banking and finance, which constitutes an important part of this economy, but spans seven key sectors forming the true pillars of an economy that is expanding while the world's Muslim population continues to outgrow others," continued Al Gergawi.
"For example, total spending by Muslims on halal food and beverages annually exceeds $1.1 trillion, which is equivalent to the combined spending of India and China."
The seven most lucrative Islamic Economy sectors covered in the report, which is now in its third edition, are finance, halal food, fashion, travel, media, research, and pharmaceuticals and cosmetics and the performance of the world's major Organisation of Islamic Cooperation (OIG) nations in each category is measured by the Global Islamic Economy Indicator (GIEI).
The UAE was ranked the second healthiest Islamic economic environment worldwide by the indicator, second only to Malaysia. Saudi Arabia and Bahrain also ranked highly.
Al Gergawi said the report and the GIEI reinforced Dubai's position as a "reliable research reference in Islamic economy".
"We are pleased with the positive results revealed by the SGIE 2015 and the promising indicators on the sector's growth, as well as on the progress of the UAE among the most active and healthiest Islamic economy ecosystems."
The indicator, now in its second year and measuring the Islamic Economy performance of 73 core countries across the globe, also highlighted the UAE's status as a top halal tourism hub.
GIEI ranked the country as the second best-positioned Islamic economy for serving the family-friendly Muslim tourism sector. Malaysia took top slot.
Muslims spent US$142 billion on tourism in 2014 and this figure is set to rise to $233 billion by 2020, the report revealed, which highlights the opportunity for the UAE to further capitalise on this rapidly growing market.
There are 1.7 billion Muslims worldwide and a growing number are looking to travel each year. Most are seeking tourism experiences that conform to their Islamic beliefs, which has given rise to a burgeoning 'halal travel' industry.
The UAE is well placed to cater to this market given it's a Muslim country where halal food and prayer facilities are widely available.
In addition, several UAE-based hospitality firms are catering to this market with accommodation concepts that offer Muslim travellers an alcohol-free environment, separate male and female spa, wellness and fitness facilities, plus prayer rooms and appropriate family entertainment.
The growing number of family-focused entertainment developments and theme parks currently under construction in Dubai also hold significant appeal.
Meanwhile, Dubai-based tech-savvy entrepreneurs are capitalising on the halal tourism trend with web- and app-based travel information services for Muslim travellers.
Major players include Dubai Silicon Oasis-headquartered irhal.com, which provides Islamic city guides online and via a mobile app that locates halal restaurants, mosques, prayer timings and important tourist attractions in more than 90 cities worldwide.
irhal.com is available in English and Arabic, with more cities to be added soon.
Dubai technology firms are also catering to the lucrative religious tourism market with Hajjnet and its Salam app guiding Hajj and Umrah pilgrims through key steps, from packing and preparation to tracking their travel companions.
It even posts users' travel information to Facebook along with a message prompting loved ones to click on the post to submit their Du'a (call to God) requests.
"The Social Du'a begins a new chapter in the way Muslims relate to technology and each other, and we think Muslims are going to love it," said Hajjnet's CEO, Ali Dabaja.
The Muslim travel market holds such strong potential for the UAE that next week will witness the debut of a new trade show dedicated to the sector.
The inaugural World Halal Travel Summit & Exhibition (WHTS15) will take place in Abu Dhabi from October 19-21 and is expected to represent the biggest gathering of halal tourism industry players to date.
More than 6,000 participants and 200 exhibitors and sponsors are anticipated including major UAE travel industry players such as The First Group's partner, Etihad Airways.
"With the halal tourism market growing at six percent per annum, faster than any other travel sector, the response from exhibitors and tourism professionals has been overwhelmingly positive and extremely encouraging," said WHTS15 event manager Hosam Moustafa.
"WHTS15 is a gathering of the industry's international elite who will formulate, establish and spearhead what will become the benchmarks and future development of halal tourism in the coming years."