Why Dubai will meet its tourism target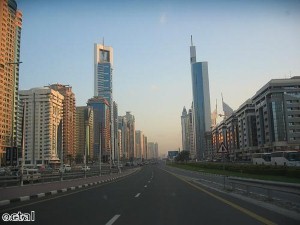 It is no secret that Dubai is currently working towards an ambitious tourism target. With the emirate due to host the World Expo in 2020, it hopes to attract 20 million tourists over the course of the year.
This is no small undertaking. Some ten million people visited Dubai in 2012, meaning tourist numbers will need to be doubled in the space of eight years to meet this goal. Once they have hit this target, the emirate's authorities plan to sustain this impressive position and ensure Dubai topples London as the most-visited city in the world.
There is no denying this is an ambitious project, but there is plenty of evidence to suggest it will prove a success. After all, Dubai has grown rapidly over the past fifty years and according to Mastercard, it is already the fifth-most visited city on the planet, behind only London, Paris, Bangkok and Singapore.
Attractions galore
No stone is being left unturned in Dubai's aim to attract more visitors. Numerous new developments are currently underway in the emirate that will attract as broad a range of tourists as possible.
For example, the construction of the Middle East's first ever Legoland Theme Park will be an ideal destination for families. Meanwhile, Mall of the World is set to be the largest shopping complex in on the globe and will attract shopping enthusiasts from all over.
Of course, the World Expo itself will draw visitors in their millions. The Dubai Expo 2020 Office has forecast that 153,000 people will make their way to the main site each week during the duration of the event, which takes place from October 10th 2020 to April 10th 2021.
As well as all the new developments, the emirate also has plenty of existing attractions to offer tourists. Be it Dubai Mall, the city's numerous beaches and parks, or its breathtaking skyscrapers, there is more than enough to make it an attractive proposition to visitors.
Another factor that will help Dubai achieve its tourism target is the fact it is more than just a standard holiday destination. Every year the emirate attracts millions of business visitors and earlier in 2014, the National reported on statistics from HotStats that demonstrated the city is the leading location in the Middle East for this type of traveller.
Dubai is taking every step to ensure it is ready to host the increased number of people it aims to attract. Airports in the emirate have been undergoing extensive expansion work recently. Some $32 billion (£19.8 billion) is being invested into Al-Maktoum International in a bid to make it the largest aviation hub in the world, with the facilities to deal with 200 million passengers every year. Even those tourists that arrive by boat have not been overlooked, with the Department of Tourism and Commerce Marketing recently revealing projects are underway to boost cruise tourism in the emirate.
Time to invest?
So, what does Dubai's ambitious tourism target mean for you? Primarily, it suggests that now is the ideal time to consider investing in property, particularly hotels, in the emirate. With the number of people visiting the city set to double, they will all need somewhere to stay. This means the hotel industry, which is already in rude health, is perfectly poised for growth.
Throughout its history, Dubai has proved that anything is possible and there is no reason to believe its ambitious tourism target for the next eight years will be any different.