VW launches football challenge in Dubai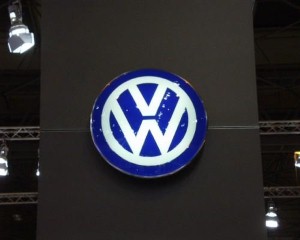 German car manufacturer Volkswagen (VW) will launch a special soccer tournament in Dubai next month.
Al Nabooda Automobiles - the company's exclusive dealer in the northern emirates - is bringing the first ever VW Football Challenge to its showroom on Sheikh Zayed Road on Saturday October 5th.
It is open to everybody and you don't necessarily have to be talented with your feet to do well.
As well as a two vs two futsal competition, the event will also include a table football - also known as foosball - tournament and a Fifa 2013 XBOX gaming contest.
The overall winner will receive tickets to see Manchester United play Arsenal at Old Trafford on November 10th, with accommodation and return flights included in the prize.
Participants can register via VW's Facebook page and 32 teams will be selected in total.
Thierry Seys, VW general manager at Al Nabooda Automobiles, said: 'This is the first time VW Dubai has activated a sporting challenge inside the showroom, so this is a real achievement for the dealership.
'As well as the fantastic prize on offer, we want to encourage Dubai residents to support our sporting initiatives like the Junior Masters and our football tournaments at Dubai Sports World.'
One of the main purposes of the event is to get more local people involved in the game.
Not everybody enjoys the traditional 11-a-side format of the sport, which is why VW has done things a little differently.
Dubai has some of the best football facilities in the Middle East, but the government is concerned about relatively low participation rates.
That said, there have been a few signs to suggest more UAE nationals are taking the game seriously and the country's under-23 team performed quite well at the 2012 Olympic Games - which came as a surprise to many people.
With Diego Maradona having a greater influence over youth development in Dubai, the future appears to be bright for football in this part of the world.