Vogue to launch fashion event in Dubai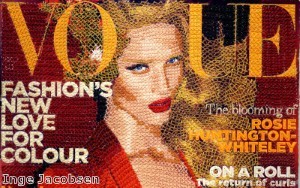 Vogue is set to launch a unique fashion event in the UAE, it has been confirmed.
Eight up and coming designers will showcase their latest collections during the show at the Dubai Mall on October 10th.
The Vogue Fashion Dubai Experience will be the largest event of its kind in the city and fashionistas from across the planet are expected to attend.
Dubai is steadily building itself a reputation as a global fashion capital and this show will raise its profile even further.
The eight designers have been plucked from different parts of the world and will include Wadah Al Hajri from Qatar, Ituen Basi from Nigeria, Razan Alazzouni from Saudi Arabia, Lulwa Al Amin from Bahrain, Simone Rocha from Ireland, Andrea Incontri from Italy, Esme Vie from Russia and Mohammed Ashi from Kuwait.
Bosses at Vogue Italia purposefully selected people from different cultures and backgrounds, as this will ensure the event is as diverse and interesting as possible.
Franca Sozzani, editor-in-chief of Vogue Italia, thinks visitors to the fashion extravaganza will be suitably impressed by the collections on offer.
'I have been working in fashion for more than 25 years and met many designers. I can say there is true talent in the region and I am excited to see more during the mentoring sessions I will be giving in the run-up to the event,' she remarked.
Fashion and design is likely to play a significant part in Dubai's bid for the 2020 World Expo.
Earlier this month, TECOM Investments - the organisation behind the Dubai Design District - said the important facility will attract top international designers, which can only be good for the city's reputation.
The emirate is already home to the largest malls on earth and leading brands from across the planet continue to open new boutiques in more upmarket areas of the sheikhdom. Of course, Dubai is also a firm favourite among celebrities, which helps to give the city a distinctly glamorous and fashionable vibe.